Springtime Strawberry and Goat Cheese Salad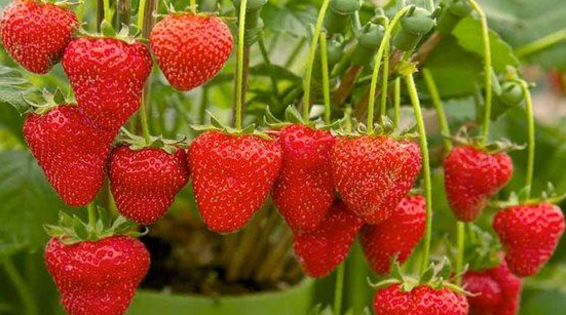 Strawberries are finally here! The Farmers Markets are brimming with them. The first fruit of spring, strawberries signify new beginnings and everything that's good. Of course, the easiest way to eat them is right off the vine. But you can use them creatively in recipes  – not only in desserts, but in savories, too. The following salad, from my good friend Mike Gardner, can be served as a side dish or a main course.
Mike Gardner's Springtime Strawberry and Goat Cheese Salad
This is a great salad for a hot day.  Let the strawberries sit long enough to absorb the balsamic vinegar flavor while you take time to catch up with friends and enjoy the summer day.
Ingredients
For the strawberries:
1 pint of ripe strawberries, if they are large, cut them in half
1/2-3/4 cup balsamic vinegar
For the salad:
Baby spinach
Baby arugula
Goat cheese crumbles
1 small red onion, sliced
1 ounce of toasted almonds
For the dressing:
3 tbsp balsamic vinegar
1 tsp dijon mustard
1/4-1/2 cup olive oil
salt and pepper to taste
Directions
Prepare the strawberries by placing them into a bowl and add the vinegar.  Let them sit for a while to absorb the flavor of the vinegar- an hour or better.  This can be done at room temperature.
In a separate bowl. make the dressing by combining the vinegar, dijon mustard, salt and pepper.  Slowly stream in the olive oil, tasting for flavor balance.  If necessary, add additional mustard to taste.
When ready to serve, combine equal parts of baby spinach and arugula.  Add in the sliced red onion, and lightly toss the salad with a small amount of dressing, adding more as necessary slowly dressing the salad as to not drench it all at once.  Add the goat cheese crumbles and almonds.  Lastly, plate the salad onto a chilled serving plate.  Using a slotted spoon, remove the strawberries from the vinegar and place them on top of the greens.  Finally, top with fresh ground pepper and serve.
Call Katherine: 202-833-0353 or Email Her
For more fabulous tips and simple, effective ways to lose weight,
buy her book, Diet Simple!