Zucchini Ribbons with Fresh Lemon Vinaigrette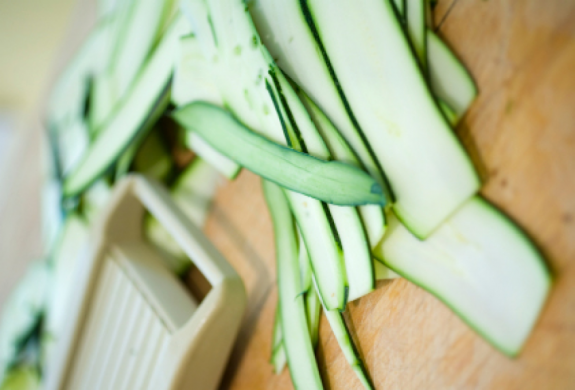 Oldways, A nonprofit food and nutrition education organization, with a mission to guide people to good health through heritage, asked me to provide a recipe for their website… Since Oldways promotes the Mediterranean way of eating and I'm a huge fan, I said YES! Out of the many recipes I supplied them, they chose "Zucchini Ribbons with Fresh Lemon Vinaigrette" for their website.
Serves 6 – 8
Ingredients:
Katherine's Favorite Vinaigrette:
Juice of 2 lemons (about 4 Tablespoons)
4 Tablespoons Extra Virgin Olive Oil
1 teaspoon coarse sea salt or Kosher salt
1 teaspoon freshly ground pepper
1 Tablespoon of fresh Basil, shredded, or fresh herb of your choice (optional)
The Vegetables:
4 or 5 small zucchini, green and/or yellow, with peel
1 onion, sliced very thinly
1 small red pepper, sliced thinly
Directions:
Prepare the vinaigrette by whisking all ingredients together in a large salad bowl.
Slice the onion and red pepper thinly, place in the vinaigrette and toss.
Slice the zucchini into ribbons, using a vegetable peeler and slicing vertically from end to end. This will make very thin slices. You may also use a cheese slicer or mandoline. Add the zucchini, toss and serve immediately, or chill and serve later.
The entire recipe contains 644 calories. Divided by 8 servings is 81 calories per serving.
This recipe was adapted from the Palmer-Sadasiv family's "Zucchini Ribbon Salad," from "Let's Eat In! Family-Tested Recipes from Around the World & Around Your Block."
Call Katherine: 202-833-0353 or Email Her
For more fabulous tips and simple, effective ways to lose weight,
buy her book, Diet Simple!