Asparagus Salad in a Vietnamese-Style Dressing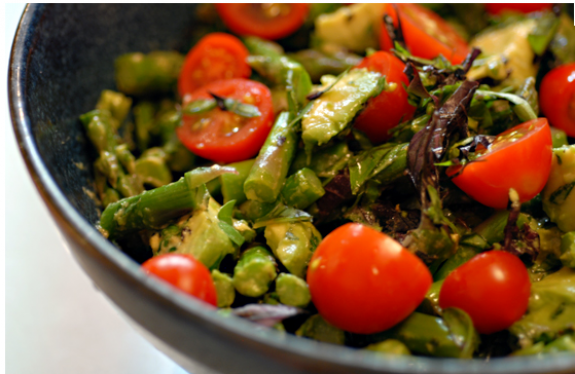 Asparagus Salad in a Vietnamese-Style Dressing

Serves 4 to 6
Ingredients:
1 pound Asparagus, cleaned, tough ends removed, cut into 2 inch pieces
1 large Tomato, seeded and diced, or 2 Cups Cherry Tomatoes halved or quartered
1 teaspoon Canola Oil
3 Scallions, chopped
3 Tablespoons roasted, unsalted Sesame Seeds
¾ Cup Vietnamese Salad Dressing (see recipe)
Ingredients for Vietnamese Salad Dressing:
1 teaspoon Canola Oil
1/3 cup White Vinegar
¼ cup Water
¼ teaspoon Salt
½ teaspoon freshly ground black pepper
1.5 Tablespoons Granulated Sugar
2 Garlic Cloves, Minced
1 Small Sweet Onion, thinly sliced
First make the dressing by mixing together the oil, vinegar, water, salt, pepper and sugar. When the sugar is dissolved, add the garlic and sliced onion. Refrigerate until cold.
Clean the asparagus, breaking off tough ends. If you wish, peel the stalks for a more tender vegetable. Slice the asparagus stalks into approximately 2 inch pieces.
Add the asparagus to boiling water in a medium saucepan. Cook for about 3 minutes, dump into a colander and quickly rinse with ice water to stop the cooking process. Or, if the dressing is cold enough, toss the asparagus immediately into the cold dressing. Do not overcook the asparagus!
Meanwhile, heat the oil in a frying pan, sautee the chopped scallions for a few seconds and add to the asparagus and dressing. Add the chopped tomato and sesame seeds to the mixture and toss before serving.
About 400 calories for the entire recipe.
Vietnamese Asparagus Salad is adapted from "The Vietnamese Cookbook" by Diana My Tran, a cookbook I highy recommend.
Call Katherine: 202-833-0353 or Email Her
For more fabulous tips and simple, effective ways to lose weight,
buy her book, Diet Simple!