A Selection of Robin Ellis's Mediterranean Recipes
I'm completely charmed and impressed by Robin Ellis' enthusiasm for his new healthy lifestyle; the Mediterranean lifestyle and diet I have adopted and a way of life I encourage everyone I know and love to embrace as well.
Ellis, a British star of stage and screen, was diagnosed with Type 2 Diabetes, and since then has been dedicated to a life of good health, but without deprivation. Based on Mediterranean cuisine – one of the healthiest in the world – Robin Ellis, in his book and blog, shares his lifetime collection of healthy recipes. Inside, you'll find:
* Simple yet sublime recipes that work,
* Dishes that all the family can enjoy,
* Not a quick-fix diet but a way of eating for everyday life.
Some samples…
Salmon Fishcakes with a Sauce of Mustard and Dill
It's like a crabcake – only with Salmon – delicious!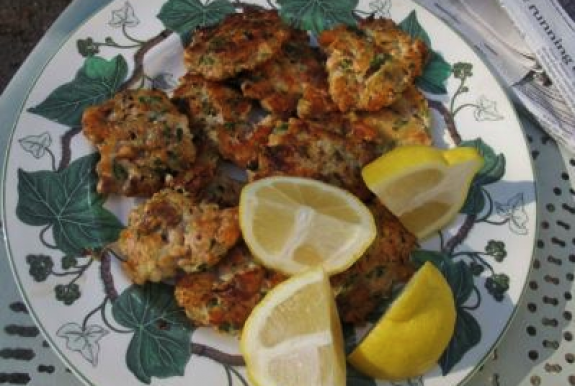 A Dish of Chicken and Leeks with Lemon

Spicy Chickpeas – Lightly Sauteed 

 Spatchcocked Chicken with Lemon and Bay Leaf

Call Katherine: 202-833-0353 or Email Her
For more fabulous tips and simple, effective ways to lose weight,
buy her book, Diet Simple!