The French Culinary Institute's Veal Stew with Carrots, La Boutarde: A Step-by-Step Pictorial Guide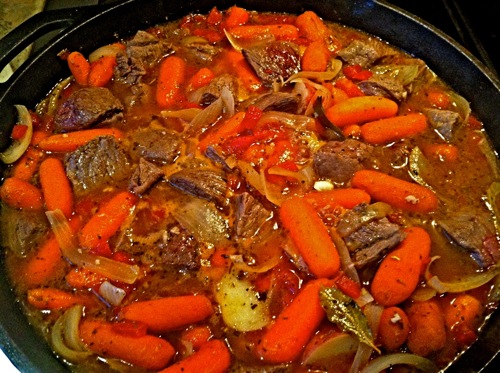 Excerpted from Diet Simple
This stew is perfect for a chilly winter day, in front of a fire, with good friends, glasses of wine clinking. My client, Lloyd, and I made this stew yesterday using beef round cubes instead of veal and it took less than 30 minutes' working time. Though it needs to simmer anywhere from 1 to 2 hours for the very lean beef or veal to become tender, almost to the point of falling apart – and melting in your mouth (Lloyd insisted we imbibe just a little while cooking – I acquiesced). As Lloyd and I were wrapping up our lesson, my next client Alex popped in and was immediately transfixed by the aromas. After a taste: "Delicious! I'm making it this weekend!" she said. No surprise there, as this beautiful and simple recipe is adapted from one of my favorite cookbooks: "The French Culinary Institute's Salute to Healthy Cooking."
The measurements do not need to be precise. You can add more vegetables, like celery, turnips, almost anything.
The veal rump is found at a butcher's or specialty market (in Washington, D.C., that would be Eastern Market). But call ahead to be sure, and ask the butcher to chop it into stew meat cubes. A substitute would be veal shoulder, which is typically used for stews, but it is not as lean as the rump. If you're on a budget or do not have a butcher easily accessible, beef round cubes are an excellent substitute.
4 servings (when you quadruple the vegetables, it will make at least 6 servings, each with more vegetables and less meat)
Ingredients:
1 Tablespoon Extra Virgin Olive Oil or Canola Oil
2 Pounds Veal Rump, well trimmed and cut into 2-inch cubes, seasoned with Salt and Freshly Ground White Pepper
2 Medium Carrots, cut into 1/2-inch slices (I quadruple the carrots)
1 Medium Onion, chopped
1-1/2 Cups Dry White Wine
1 Cup Water (or more Wine)
2 Medium Very Ripe Tomatoes, peeled, cored, seeded, and chopped (Canned Plum Tomatoes are terrific – again, I quadruple the amount)
2 teaspoons Herbes de Provence*
1 Bay Leaf
3 Small All-Purpose Potatoes, quartered (I like using the small new potatoes)
Directions:
Warm the oil in a large saute pan over medium-high heat. When hot, add no more than half the veal and sear for 3 minutes, or until the veal has evenly browned on all sides. Do not crowd the pan or scorch the meat. Using a slotted spoon, transfer the veal to a Dutch oven. Continue searing the veal until all of the meat has been browned. Season with salt and pepper.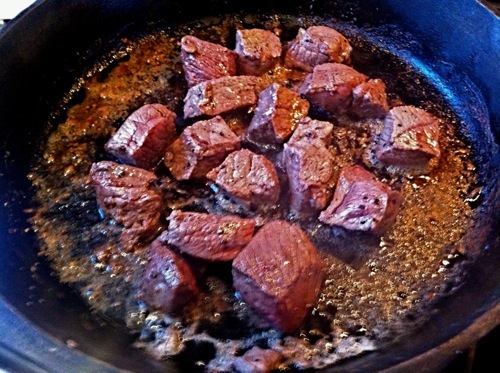 In the same pan over medium heat, saute the carrots and onions for 3 to 5 minutes, or until the onions are translucent. Lloyd decided to simplify and used baby carrots.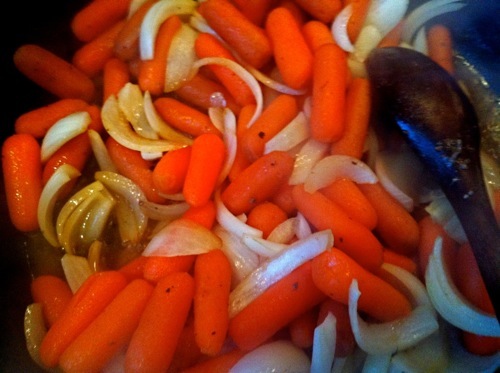 Reduce the heat and stir in the wine. Using a wooden spoon, stir vigorously to lift the browned bits from the bottom of the pan.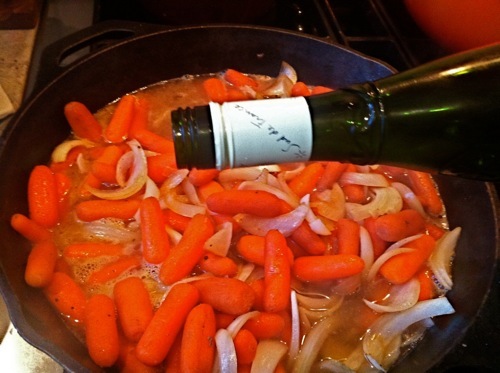 Pour into the Dutch oven (or keep everything in your saute pan if it is big enough). Add the water (or Wine), Tomatoes, Herbes de Provence*, and the Bay Leaf (Lloyd decided to add mashed garlic). Place over medium heat and bring the stew to a boil. Reduce the heat to medium-low, cover, and simmer for one hour. Add the potatoes and simmer for 35 minutes, or until the potatoes and meat are tender (it may take a total of 2 hours of simmering for the meat to become melt-in-your-mouth tender).
Taste and adjust the seasoning. Remove the bay leaf. Voila!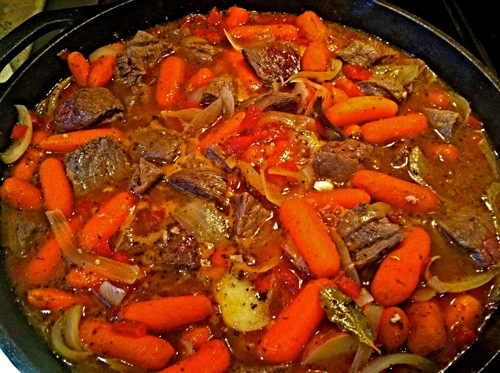 *Herbes de Provence is a mixture of dried herbs that often includes basil, lavender, rosemary, sage, thyme, and others. Look for it in the spice section of your supermarket.
Nutrition information per serving: 437 calories, 12 g total fat, 4 g sat fat, 22 g carbohydrate, 4 g fiber, 60 g protein
"Veal Stew with Carrots, La Boutarde" originally appeared in "The French Culinary Institute's Salute to Healthy Cooking," by Alain Sailhac, Jacques Pepin, Andre Soltner, Jacques Torres, and the Faculty of the French Culinary Institute (1998). 
Call Katherine: 202-833-0353 or Email Her
For more fabulous tips and simple, effective ways to lose weight,
buy her book, Diet Simple!