Najmieh's Cauliflower KuKu with Fresh Parsley and Spices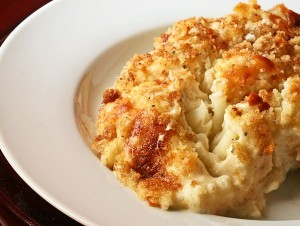 Najmieh's Cauliflower KuKu with Fresh Parsley and Spices
A "Kuku" is a Persian mix between a frittata, a type of Spanish omelette, and a souffle. You can use any vegetables and spices, making a delicious and elegant breakfast, lunch or dinner dish. For instance, I've used all cauliflower, and I've mixed it up with 1/2 cauliflower and 1/2 brussels sprouts, for a change.
Serves 4
Ingredients:
¼ Cup (4 Tablespoons) Canola or Olive Oil
1 Medium Onion, peeled and thinly sliced
2 Cloves Garlic, peeled and thinly sliced
1 Pound Cauliflower Florets, fresh or frozen (1 small head), coarsely chopped
Pinch of Iodized Salt
1/4 teaspoon Freshly Ground Black Pepper
1/2 teaspoon Turmeric
1/4 teaspoon Smoked Paprika
1/4 teaspoon Cayenne
1/2 teaspoon Ground Cumin
4 Eggs
1/2 teaspoon Baking Powder
1 Tablespoon Flour
1/2 teaspoon Iodized Salt
¼ Cup Fresh Parsley, Chopped
4 Sprigs of Parsley for garnish (optional)
Instructions:
Preheat oven to 350 degrees F.
Meanwhile, heat 2 Tablespoons of the oil in a large skillet and brown the onion, garlic and cauliflower over medium high heat for about 15 minutes, stirring occasionally. Stir in the pinch of salt, the pepper, turmeric, smoked paprika, cayenne, and cumin. Let cook on low for another 5 minutes. Cool.
Break eggs into a mixing bowl and add the 1/2 teaspoon of salt, the baking powder, flour, and parsley. Whisk lightly. Add the cooled onion, garlic and cauliflower to the egg mixture and fold with a rubber spatula or large wooden spoon.
Heat the remainder of the oil – 2 Tablespoons – in an 8-inch ovenproof baking dish, such as a round, glass Pyrex dish, by placing it in the oven for 10 minutes, or more. Pour in the egg mixture (it will sizzle) and bake uncovered for 50 to 55 minutes until lightly golden on the top and a "tester" such as a thin knife or metal kabob stick, comes out clean.
Remove from the oven, allow to rest for 5 minutes. Loosen the edges with a thin knife, cover with a serving plate and invert onto the serving plate. Cut into 4 pieces and serve with a sprig of parsley.
Recipe total calories = 900. Divided by 4 servings = 225 calories/serving
"Cauliflower KuKu with Fresh Parsley and Spices" was adapted from Najmieh Batmanglij's "Food of Life: New Edition" (Mage Publishers, 2011)
Call Katherine: 202-833-0353 or Email Her
For more fabulous tips and simple, effective ways to lose weight,
buy her book, Diet Simple!