Najmieh's Yogurt and Spinach Dip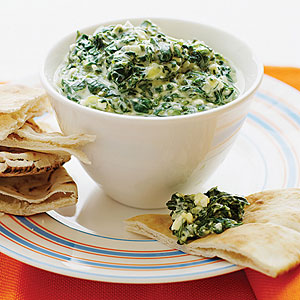 Najmieh Batmanglij's Yogurt and Spinach Dip
From "Diet Simple: 195 Mental Tricks, Substitutions, Habits & Inspirations" (June 2011, LifeLine Press)

8  Servings
4 Cups (10 Ounces) fresh Spinach, washed and chopped, or 1 cup frozen Spinach, thawed
2 Onions, peeled and thinly sliced
2 cloves garlic, peeled and crushed
2 Tbsp Olive Oil
1-1/2 Cups Low-Fat Drained Yogurt * or Greek Yogurt
1/2 tsp salt
1 tsp freshly ground Black Pepper
Garnish (optional):
1/4 tsp saffron dissolved in 1 Tbsp Hot Water
1 Tbsp Rose Petals
In a non-stick skillet, lightly brown the onions and garlic in 2 tablespoons oil for 20 minutes over medium heat. Add the spinach, cover and steam for about 5 to 10 minutes, until the spinach leaves are wilted. Remove from heat and let cool. In a serving bowl, mix yogurt and spinach and season to taste with salt and pepper. Refrigerate for several hours before serving. Garnish with saffron water and rose petals. Serve as a appetizer with crudites, whole grain crackers, or lavash bread. 130 Calories Per Serving.
"Yogurt and Spinach Dip" is from Persian Cooking for a Healthy Kitchen by Najmieh Batmanglij (Mage Publishers)
Yogurt is a Superfood, I am beginning to believe, based on current research, yogurt may be one of the best overall foods you can eat! Yogurt creates a natural way to boost your immune system by increasing the healthy bacteria in your gastrointestinal tract, according to my friend and colleague, Jo Ann Hattner, MPH, RD, in her book, "Gut Insight."
Of course, many of the oldest civilizations in the world have known about yogurt for thousands of years.
For aging intestinal tracts, and as a bonus, increase your intake of calcium, protein, potassium, magnesium and other essential nutrients, eat fermented dairy or soy products, such as yogurts and kefir with live, active cultures, often labeled as "probiotics."
Probiotics are live bacteria that promote digestive health. As we age, it is thought that bacterial populations in our gut change – resulting in increased harmful, disease-causing bacteria and fewer protective bacteria.   When you add probiotics you repopulate the gut with beneficial bacteria that protect against infection-causing toxins.
You also improve colon health by lowering pH of the colon, so it's receptive to the beneficial bacteria and detrimental to the disease-causing bacteria, you protect the intestinal lining, and strengthen immunity.  Exciting research is evolving on the health benefits of probiotics.
(Reference:  Mitsuoka T. Intestinal flora and aging. Nutr Rev. 1992 Dec;50(12):438-46)
More information on boosting your immune system…
Call Katherine: 202-833-0353 or Email Her
For more fabulous tips and simple, effective ways to lose weight,
buy her book, Diet Simple!