"Addictive" Chilled Asparagus in a Creamy Tarragon, Shallot and Roasted Walnut Vinaigrette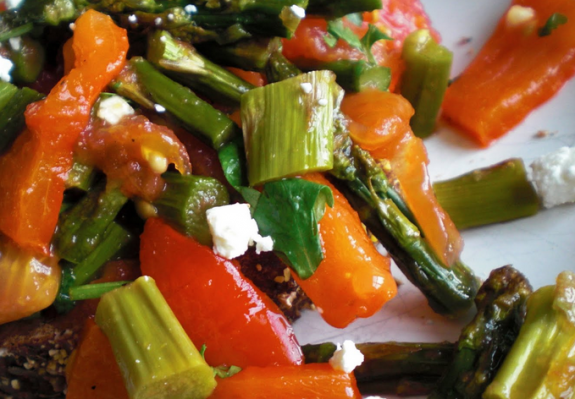 My favorite asparagus recipe is one I developed with my client, Rebecca. We made a mess in her kitchen with several bundles of asparagus in each corner. We roasted it, steamed it, and sauteed it. We tried a variety of dressings and accompaniments. The result? "Chilled Asparagus in a Creamy Tarragon, Shallot, and Roasted Walnut Vinaigrette."
Chilled Asparagus in a Creamy Tarragon, Shallot, and Roasted Walnut Vinaigrette
How delicious is this recipe? Let me just say my friend Cindy Mize – who recently lost 30 lbs with my DIET SIMPLE batch recipes, and who I immortalized in my book, Diet Simple, as having just lipstick and fingernail polish in her refrigerator (during her younger days in Washington), says she can't sleep knowing it is in her refrigerator. In her new life as president of Miami Capital Properties in Key Biscayne, Florida, she has many dinner parties at which my asparagus recipe is featured. After her dinner guests leave, she says she sneaks to the refrigerator at midnight to scarf up the leftover. I can hardly believe the transformation of this southern gal who claimed she would only eat "brown" or "white" food: but I guess that illustrates the power of a great recipe!
Serves 6 to 8
Ingredients:
2 pounds Asparagus, cleaned, tough ends removed, cut in bite-sized (1.5 inch) pieces
1 Tablespoon Walnut or Canola Oil
A pinch of Salt and Pepper to taste
2 Ounces (1/2 Cup) Roasted, Unsalted Walnuts, Chopped
1 Small (4 ounce) Red Bell Pepper, Chopped Finely (roasted, if you wish)
1 Bunch (1/4 Cup) Green Onions, Chopped Finely
Vinaigrette:
2 Tablespoons Tarragon Vinegar (or regular vinegar)
4 Tablespoons Walnut Oil (or canola oil)
2 Tablespoons Low Fat Greek Yogurt
1 Shallot, Chopped Finely
2 Tablespoons Fresh Tarragon, Chopped Finely
1 Tablespoon Fresh Parsley, Chopped Finely
1 Tablespoon Fresh Chives, Chopped Finely
¼ Teaspoon Salt
Freshly Ground Pepper, To Taste
Preparation:
First,Prepare the vinaigrette by mixing all vinaigrette ingredients in a bowl large enough to fit the asparagus, red pepper and green onions. Place the bowl with the vinaigrette in the refrigerator so that it is cool when the asparagus comes out of the oven.
If you are using raw walnuts, toast the walnuts by placing them in a single layer on a baking sheet in a 350 degree oven for 8 to 10 minutes until light golden brown. Let them cool. Chop.
Preheat oven to 425 degrees.
Clean the asparagus, break off tough ends. If you wish, peel the stalks for a more tender vegetable. Slice the asparagus stalks diagonally into bite-sized or approximately 1.5 inch pieces. In a large bowl or plastic bag, toss the Asparagus pieces in 1 Tablespoon of Walnut or Canola Oil and a light sprinkling of salt and pepper until the asparagus is coated lightly with oil. Place on a baking sheet in a single layer and cook for 5 minutes in the middle of the 425 degree oven. Pour the hot asparagus into the cool vinaigrette to help discontinue the cooking of the asparagus, so that it remains al dente. Do not overcook! Add the finely chopped red bell pepper, green onions, and nuts. Toss and serve immediately while still warm or chilled.
About 1,000 calories for the entire dish.
Asparagus is packed with nutrients. Low in calories, it's an excellent source of folic acid and Vitamin C, Thiamin, and Vitamin B6. Asparagus, like other fruits and vegetables, is sodium-free, and contains no fat or cholesterol, either. It is an important source of potassium and many nutrients, important for boosting your immune system and preventing heart disease, lowering blood pressure and even preventing cancer. According to the National Cancer Institute, Asparagus is the highest tested food containing Glutathione, one of the body's most potent cancer fighters. Additionally, Asparagus is high in Rutin, which is valuable in strengthening the blood vessels.
Call Katherine: 202-833-0353 or Email Her
For more fabulous tips and simple, effective ways to lose weight,
buy her book, Diet Simple!