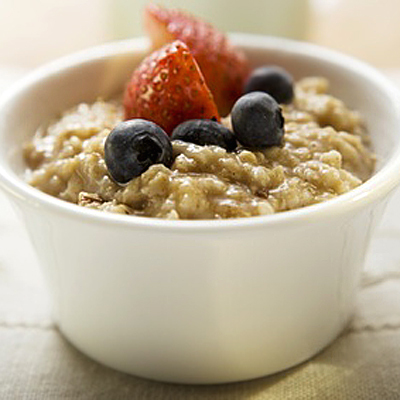 USDA Celebrates National School Breakfast Week
"Healthy, Hunger Free Kids Act" sets the table for a healthy start to school each day
WASHINGTON, March 5, 2012 – Agriculture Secretary Tom Vilsack today marked National School Breakfast Week (March 5-9) by emphasizing the administration's commitment to provide schoolchildren with healthy, well-balanced meals to prepare them for a productive school day.
"Breakfast is the most important meal of the day because it helps keep kids alert and focused on learning," said Vilsack. "Thanks to the Healthy, Hunger-Free Kids Act, we will be able to connect more eligible children with our school food programs and greatly improve the quality of meals served in schools."
Breakfast is important for so many reasons…
Katherine's Deliciously Simple Oatmeal with Fruits and Nuts
The administration's commitment to increase participation in the School Breakfast Program has drawn national attention to the effort to continuously improve the health and nutrition of America's schoolchildren. To start each school day, the program gives more than 12 million children of all economic backgrounds a well-balanced, healthy meal consistent with the latest science and dietary guidelines.
"Participation in the School Breakfast Program is an important vehicle to meet the nutrition needs of children," said Kevin Concannon, USDA Under Secretary for Food, Nutrition and Consumer Services. "Since President Obama signed the Healthy Hunger-Free Kids Act into law, USDA has worked with schools on innovative delivery strategies to meet the requirements for promoting the School Breakfast Program."
In January, USDA unveiled new standards for school meals that will result in healthier meals for nearly 32 million kids that participate in school meal programs every school day. USDA built the new rule around recommendations from a panel of experts convened by the Institute of Medicine —a gold standard for evidence-based health analysis. The standards were also updated with key changes from the 2010 Dietary Guidelines for Americans – the Federal government's benchmark for nutrition – and aimed to foster the kind of healthy changes at school that many parents are already trying to encourage at home, such as making sure that kids are offered both fruits and vegetables each day, more whole grains, and portion sizes and calorie counts designed to maintain a healthy weight.
The new standards are just one of five major components of the Healthy Hunger Free Kids Act, now implemented or under development, that will work together to reform school nutrition. In addition to the updated meal standards, unprecedented improvements to come include:
The ability to take nutrition standards beyond the lunchline for the first time ever, foods and beverages sold in vending machines and other venues on school campuses will also contribute to a healthy diet;
Increased funding for schools – an additional 6 cents a meal is the first real increase in 30 years – tied to strong performance in serving improved meals; Common-sense pricing standards for schools to ensure that revenues from non-Federal sources keep pace with the Federal commitment to healthy school meals and properly align with costs; and
Training and technical assistance to help schools achieve and monitor compliance.
USDA's Food and Nutrition Service administers 15 nutrition assistance programs that, in addition to the Supplemental Nutrition Assistance Program and National School Lunch Program, also include the Special Supplemental Nutrition Program for Women, Infants and Children, and the Summer Food Service Program. Taken together, these programs comprise America's nutrition safety net.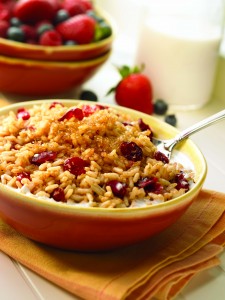 "Diet Simple" contains 192 strategies for healthy weight loss. What's one of the most effective, enjoyable, and simple changes you can make in your eating? Simple: Add breakfast to your day. Katherine explains to Washingtonian…
Also, CNN spoke with Katherine Tallmadge about breakfast. Here's a part of that conversation.
What exactly is it about breakfast that makes it so beneficial? And are all are breakfasts created equal? A study from Pediatrics, published in March 2008, looked at 2,000 teenagers and found that teens who ate breakfast weighed less, exercised more and ate healthier food than their classmates who didn't eat breakfast.
CNN: Explain the real benefits of eating breakfast. In your experience, have you seen among your patients the same results this study showed: that people who aren't eating breakfast actually weigh more? How is that?
Tallmadge: In general, people who ate more in the beginning [of] the day ate fewer overall. As soon as you start eating, you start raising your metabolism; your whole body is burning calories earlier in the day. Helps control your appetite. People who skip breakfast — victims of vending machines. The pickers — they eat overall more calories, tend to eat more.
CNN: What about for the people who say, "I just don't have time to eat breakfast"? What are your tips?
Tallmadge: Everyone has time to eat breakfast. If someone says they don't, then they should be happy being fat and unhealthy… I apologize for the glib answer… but it's TRUE!
Scientific studies confirm breakfast eaters get more nutrients for the whole day, are more likely to lose and maintain healthy weights, have more energy, concentrate better, and eat fewer overall calories during the day.
My favorite breakfast? a warm bowl of oatmeal cooked in milk with fruit and nuts… even a peanut butter sandwich with yogurt and fruit, or eggs on whole grain toast with spicy chicken sausage… Do you like lox on a whole grain bagel? How about whole grain blueberry pecan pancakes? All excellent choices… Bon Appetit!
Photo: USA Rice Federation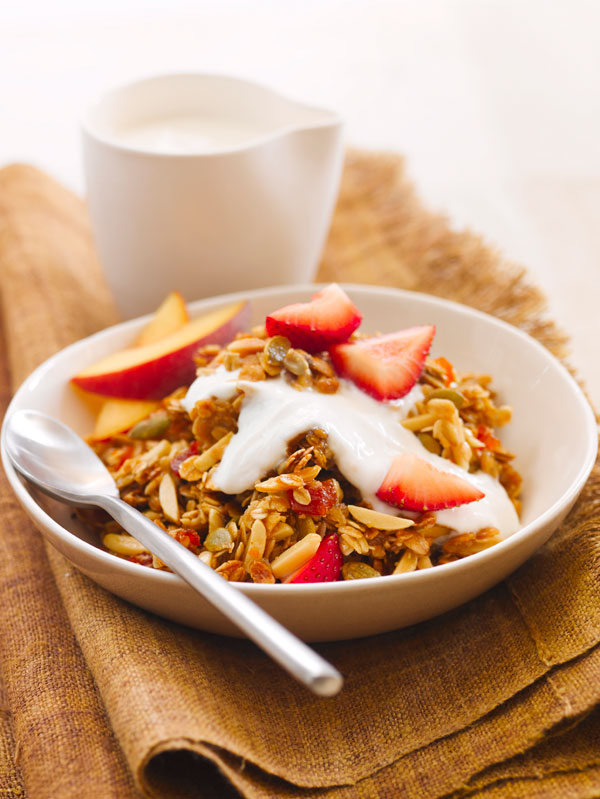 by Katherine Tallmadge
The Washington Post
Breakfasts should contain 25 percent — or better yet, one third — of the day's calories. Many nutritionist believe all three meals should be approximately equal in size.
"People are happy to eat a large breakfast and lose weight," says Washington, D.C – based nutritionist, Mary Dickie. Eating balanced meals through the day maintains metabolism. It also prevents cravings and bingeing. As most of bingeing or over eating is caused by under eating.
"Most people are not eating enough calories earlier in the day
and they eat too many calories too late in the day" agrees Steven Farrell, associate director of the Cooper Institute, a medical research center in Dallas. "Skipping breakfast is one of the biggest mistakes people make."
Because many people need 2,000 or even 3,000 calories a day to maintain their weight, a breakfast that contains a quarter or a third of that total may be hard to envision.
For a few examples of morning meals of various calorie levels: