"Diet Simple"
---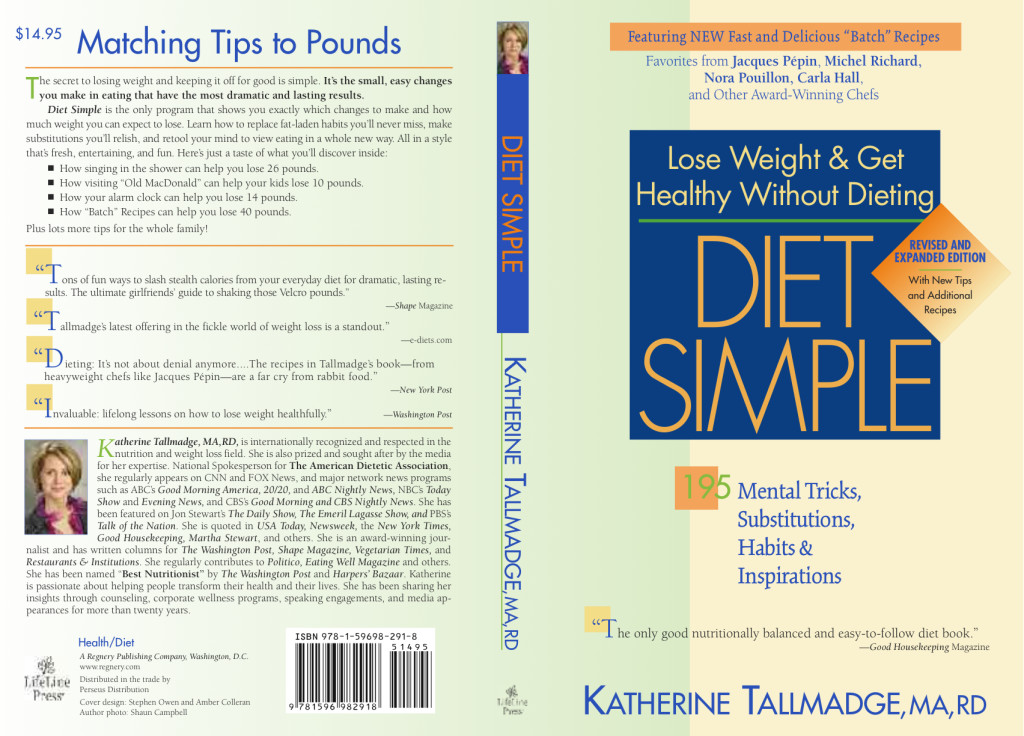 • 195 New and Improved Mental Tricks, Substitutions,
Habits & Inspirations
• New recipes – 70+ recipes in all, with "gluten-free," "vegetarian," and "vegan" selections identified
• New breakfast, lunch and dinner menus and  ideas
"Diet Simple" is for people who love to eat.  "For weight loss to last, it has to be enjoyable. You cannot feel deprived," says "Diet Simple" author, Katherine Tallmadge. THIS is the "Diet Simple" philosophy… "I LOVE to eat, I LOVE delicious food… gorgeous food, and LOTS OF IT!" says Katherine. If you feel the same way, the "Diet Simple" approach is for you!
The secret to losing weight and keeping it off for good is simple. It's the small, easy changes you make in eating that have the most dramatic and lasting results.
Diet Simple is the only program that shows you exactly which changes to make and how much weight you can expect to lose. Learn how to replace fat-laden habits you'll never miss, make substitutions you'll relish, and retool your mind to view eating in a whole new way. All in a style that's fresh, entertaining, and fun.
How singing in the shower can help you lose 26 pounds.
How visiting "Old MacDonald" can help your kids lose 10 pounds.
How your alarm clock can help you lose 14 pounds.
How "Batch" Recipes can help you lose 40 pounds.
How adding salad to your lunch and dinner can help you lose 36 pounds.
How eating four frozen dinners a week could result in an 18-pound loss.
When it comes to dieting, time is on your side. Studies have shown that it's the small, easy changes you make in eating that have the most dramatic and lasting results. For instance, make one or two minor changes in your eating or life-style habits, and over the course of three months, you will begin to see significant weight drop.
Katherine Tallmadge, MA, RD, a leading nutritionist, has compiled 192 easy tips, substitutions, mental tricks, strategies, and inspirations that have helped her clients shed from 10 to 50 pounds a year-effortlessly and without feeling deprived.
Including 50+ Fast and Delicious 'Batch Recipes' from world-renowned chefs such as Jacques Pepin and Roberto Donna, 'Diet Simple' teaches you how to permanently lose weight and change your life for the better while balancing the needs of health, career and family.
During her twenty-plus years as a weight-loss and nutrition counselor, Tallmadge has discovered that modifying small habits is easy and the most common way to lose weight without even trying. Over time, the extra calories saved or burned add up to staggering weight loss. This is the Diet Simple approach.