Goody's Vegetable Soup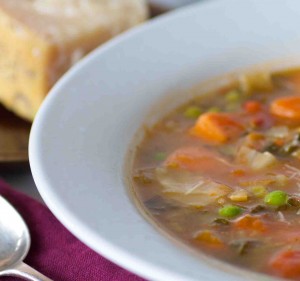 I first experienced this soup at a pot luck dinner with a group of colleagues in Les Dames d'Escoffier, a professional group of women in the food and wine fields. My fellow Dame Goody Solomon made it and when it was passed around, I was mesmerized by the soup's delicate aroma. When I tasted it, I was surprised that a simple vegetable soup could be so delicious. The tender vegetables imparted a sweet and complex flavor. I couldn't get enough. This was the only dish I got seconds of.
I love it and swear by it as a weight loss aid. Eat this with every meal and you'll not only be bowled over by its flavor and look forward to every meal, you'll see results.
10 – 12 servings
4 Quarts Defatted Chicken Stock (see Goody's recipe for Chicken Stock)
1 Large Can of Tomatoes with Juice,
2 Parsnips,
1 Large Potato
5 Carrots
1/4 Large Cabbage
2 Stalks Celery
1 Medium peeled Onion
1/2 tsp butter or light margarine per serving (optional)
Bouquet Garni:
1 Large Clove Garlic
4 Sprigs of Fresh Parsley
2 Sprigs of Fresh Dill
Cut all of the vegetables into bite size pieces. To make the "bouquet garni," place the garlic, parsley and dill in a cheese cloth, tie with a string. Put vegetables and bouquet garni in the chicken stock and simmer until potatoes and carrots are soft – about 40 minutes.
When serving, garnish each bowl with 1/2 tsp of butter or light margarine.
Goody Soloman is the executive editor of the Food Nutrition Health (FNH) News Service in Washington, D.C., in which she reports on government policies affecting food, nutrition and health. Her career has been multi-faceted with stints as an award-winning syndicated food columnist, a restaurant reviewer, consumer correspondent, magazine writer, television personality, book author, public speaker and teacher.
Calories 100
Calories from Fat 0
Total Fat 0g 0%
Saturated Fat 0g
Cholesterol 0mg
Sodium 320mg 13%
Total Carbohydrate 14g 5%
Dietary Fiber 3g 13%
Soluble Fiber 0.89 g
Omega 3 Fatty Acids 0.04 g
Sugars 4g
Protein 10g
Vitamin A 100%
Vitamin C 25%
Calcium 6%
Iron 15%
Analysis with 1/2 tsp butter
Calories 120
Calories from Fat 20
Total Fat 2g 3%
Saturated Fat 1g
Cholesterol 5mg
Sodium 340mg 14%
Total Carbohydrate 14g 5%
Dietary Fiber 3g 13%
Soluble Fiber 0.89 g
Omega 3 Fatty Acids 0.04 g
Sugars  4g
Protein  10g
Vitamin A  100%
Vitamin C  25%
Calcium  6%
Iron  15%
Call Katherine: 202-833-0353 or Email Her
For more fabulous tips and simple, effective ways to lose weight,
buy her book, Diet Simple!