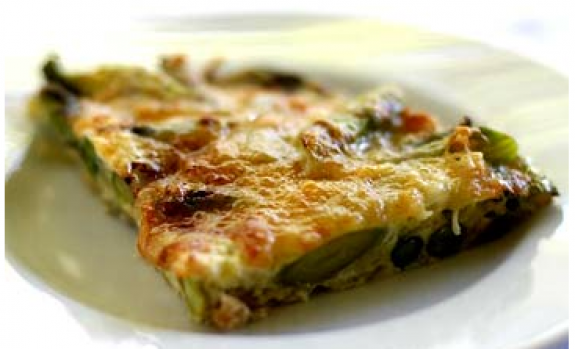 Janis McLean's Asparagus Frittata
This is one of Janis's favorite quick spring suppers. "Serve this frittata with a loaf of crusty (whole grain) bread and a nice green salad and you can have dinner on the table in nothing flat!! Also lovely on a spring brunch table. It can be served room temperature, so it is perfect for entertaining, as it can be done ahead!" said Janis, Bistrot Le Zinc's executive chef.
Serves 1
4 asparagus spears (2 oz)
1 scallion (spring onion)
1/2 tablespoon Canola or Extra Virgin Olive Oil
3 eggs
1 heaping tablespoon of ricotta cheese
1 pinch salt
1 good grind of the pepper mill
Preheat oven to 4000degrees
1. Wash the asparagus spears in cold water (rather than holding it under running water, dunk it in a pan of water so that you can clean the tight heads). Starting at the head — cut it into thin slices on the bias (angle), working your way down until you reach the woody end. Discard the bottom end which will be tough. Slice the scallion in the same manner (on the bias) starting at the white end and working up the onion until you reach the raggedy end (discard tippy-top dark green portion).
2. Heat a 7' skillet over medium-high heat until hot, but not smoking (3 minutes). Toss in the oil – it should sizzle.  When the foaming subsides, add the asparagus slivers and cook over brisk heat until tender (about 1 ½ to 2 minutes). Meanwhile break the eggs into a medium sized bowl, add the ricotta cheese, salt and pepper and whisk until thoroughly blended.
3. Turn the heat down to low, add scallions to the asparagus in the pan and tip in the egg mixture  — it should sizzle when it hits the pan. Using a heatproof rubber spatula, gently draw in the base of frittata as it set — pulling in from the sides toward the center — working your way around the outside circle of the pan — in a clover leaf pattern — this will allow what is unset to flow to the bottom of the pan. Once you have made two complete passed around, stop or you will have scrambled eggs, not a frittata.
4. Place in 4000degree oven, and cook until the frittata is set through (about 3 minutes). Place a heatproof plate over the pan, and carefully tip it all upside over to remove the frittata (what was the bottom, is now the top!). Then carefully slide it back into the sauté pan — set it back in the oven for 1 minutes to allow the bottom side to set. (or turn on the broiler to finish the top)
5. Remove from the oven. Slide out onto a plate.  This also makes a lovely snack if you cool it to room temperature and serve, cut into wedges.
(c) Janis McLean, all rights reserved