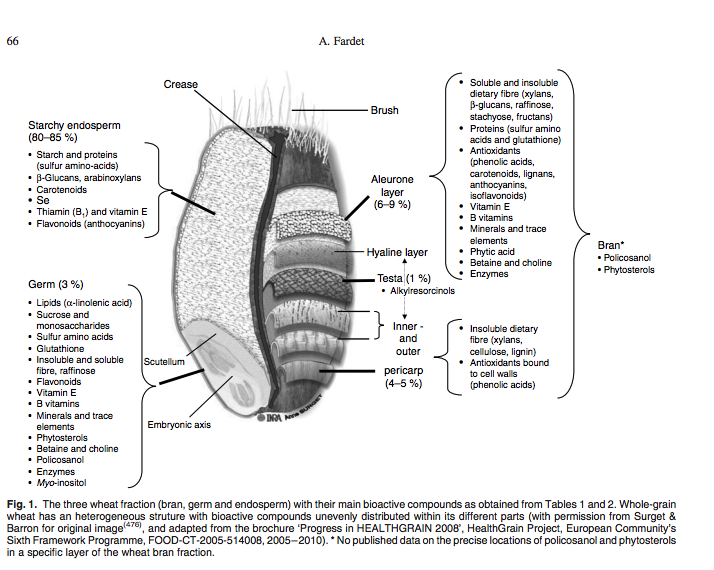 A whopping 21 percent of Americans are currently making an active attempt to eat gluten-free, according to a Gallup poll published July 23. That dwarfs the 1 percent of the U.S. population diagnosed with celiac disease,the only medical condition that requires gluten-free products for someone with the disease to live a healthy life.
More and more Americans are on the anti-wheat warpath trend, as the label "gluten free" appears on everything from craft beer to cat food. For those with celiac disease, a life-threatening autoimmune disorder that destroys the gastrointestinal tract, going gluten-free is critical to avoid damage to the small intestine. For everyone else, though, it is an unnecessary, and – potentially unhealthy diet.
The gluten-free industry
Such facts haven't stopped the food industry from taking advantage of the trend, and gluten-free products have grown to represent a $9 billion market in 2014, according to the Burdock Group, which specializes in food market research, among other issues.
Gluten-free foods, especially refined foods processed to make them gluten-free (many made with potato starch or rice starch), cheat the consumer out of the many health benefits of whole grains — such as wheat, barley and rye — and can be seriously lacking in critical nutrients such as fiber iron, zinc, folate, niacin, thiamine, riboflavin, calcium, vitamin B12, phosphorus fiber and iron.
A whole grain contains all three parts of a grain: the bran, germ and endosperm, as opposed to a refined grain which only contains the endosperm. The nutritional riches are mostly found in the bran and the germ. Decades of research, conducted predominantly on gluten-containing whole wheat, according to Joanne Slavin a professor in the department of food science and nutrition at the University of Minnesota in St. Paul, has found that people who eat whole grains, containing all three parts of the grain, are less likely to be overweight  or have diabetes, heart disease or even many cancers, including colorectal cancer, and head and neck cancer in women.
"Whole grain cereals can protect the body against the increased oxidative stress that is involved and/or associated with all the major chronic diseases: metabolic syndrome, obesity, diabetes, cancers, and cardiovascular disease," according to a comprehensive review in Nutrition Research Reviews. "Whole-grain cereals are good sources of antioxidants (thirty-one compounds or groups of compounds are listed picture above). Some specific mechanisms are today well recognized. For example, food structure influences satiety and the slow release of sugars recommended for type 2 diabetes. Dietary fiber improves gut health, and the antioxidant and anti-inflammatory properties of most phytochemicals can help prevent cancer and cardiovascular disease.
The U.S. Dietary Guidelines Advisory Committee, a group of scientists convened to offer nutrition recommendations for Americans to the federal government, said dietary patterns of the American public are suboptimal and are causally related to poor individual and population health and higher chronic disease rates." The scientists recommended diets higher in fruits, vegetables, and whole grains than is currently consumed.
"Across all ages and both sexes, the US population does not meet the goal for whole grain intake, The inadequate intake of whole grains leads to underconsumption of several … nutrients of public health concern. "
Most gluten-free processed foods are not made with nutrient-rich, health-protecting whole grains. Furthermore, the gluten-free label has very little to do with the nutritional value of a food. French fries, and many candies, for example, are naturally gluten-free.
People without celiac disease who follow a gluten-free diet (many of whom aren't even aware of what gluten is or what contains gluten, according to a hilarious recent Jimmy Kimmel piece) have been known to cite numerous reasons for doing so. A common one is a feeling of lethargy or ill health that has come to be associated with eating gluten. However, the feeling of wellness that many attribute to the removal of gluten from their diets is more likely due to the absence of the refined carb- and sugar-laden snacks and desserts that happen to contain the protein (so why not simply remove those foods but keep the healthy gluten-containing foods?).
If you are concerned that you may have celiac disease, you should have your doctor, preferably a gastroenterologist, perform an intestinal biopsy — and you shouldn't cut gluten until you know for sure that you need to.
Celiac disease cannot be self-diagnosed and a patient must be eating gluten for the disorder to be properly identified. Until then, you should treat the gluten-free trend as any other fad diet: Don't get sucked in by the hype.
Featured on CNN's Health Minute
Read it to find out why this article went VIRAL!
Recently published in LiveScience.com, published in "The Washington Post," and broadcast on WOR Radio New York City…
Eating healthy can be harder than you think, thanks to an enterprising food industry that wants us to consume more than we need. That's because our country's agricultural system produces twice what most people require – 3,900 calories per person per day, according to the U.S. Department of Agriculture's Economic Research Service. This encourages creative marketing to unload the excess, much of it made with cheap ingredients, having long shelf-lives, and minimal nutritional value – the kinds of "food" with the highest profit margins.
As a nutrition consultant, I know that words such as "low fat," "high fiber," "multigrain," gluten free," and "natural" can confuse even the most sophisticated customers into believing what they're buying is healthful. In fact, market research proves it.
What can you do? First, make a habit of reading the ingredients list, not just the Nutrition Facts panel. And remember the following products worth resisting…
Reduced-fat peanut butter
The oil is the healthiest part of a peanut* or a tree nut, containing most of the nutrients, so there's no advantage to taking it out. In fact, it's worse because it robs the peanut butter of its health benefits. "Reduced-fat peanut butter has as many calories and more sugar than the regular," says Bonnie Liebman, nutrition director for the Center for Science in the Public Interest.
Instead: Buy regular peanut butter. Eating one or two ounces of nuts daily is associated with reductions in heart disease and cancer risk. A recent Harvard study showed that eating nuts is associated with lower body weights.
Enhanced water
Sports drinks, diluted soft drinks with salt, are only needed during intense exercise exceeding one hour or in extreme heat. Drinks such as Vitaminwater (c) are essentially sugary drinks with a vitamin pill. They are "unequivocally harmful to health," says Walter Willett, professor of epidemiology and nutrition at Harvard's School of Public Health. "Whether vitamins dissolved in water have any benefit will depend on who you are and whether you are already getting enough. . . . Some people may be getting too much of some vitamins and minerals if they add vitamin water on top of fortified foods and other supplements." A recent Iowa Women's Health Study found an association between certain commonly used vitamin and mineral supplements and increased death rates. But the worst offenders in this category are energy drinks such as Red Bull, Sobe Life Water, or Monster Drinks.  They're not only high in sugar, but most contain stimulants which may be harmful, especially with medical conditions like high blood pressure.
Instead: Drink water, ideally from the tap ("Eau du Potomac," as it's known locally). It's the best drink for hydrating your body, is naturally calorie-free and contains fluoride to prevent tooth decay. No supplement matches the nutrients in whole foods such as fruits, vegetables, nuts and whole grains.
Energy bars
The reputation of these bars, also known as meal replacement bars, is that they are healthy, aid in weight loss or help build muscle. In fact, they are calorie bombs: candy bars with vitamins, protein or fiber added. For most of them, sugar is either the first (predominant) or second ingredient.
Instead: Snack on fruit or veggies for weight loss and yogurt for muscle gain. If you're hiking a long distance and want a healthful, nonperishable calorie bomb, try nuts and dried fruit.
Multigrain foods
Multigrain breads, crackers and cereals are often the most confusing foods. People see "multigrain" and think "whole grain." That's not necessarily so. This is an important distinction because people who eat whole grains have a lower incidence of diabetes, heart disease and cancers, and are less likely to be overweight compared with those who eat refined grains. Note that when "enriched wheat flour" is listed in the ingredients, that's refined flour.
Instead: Be sure a whole grain, such as whole wheat, whole rye, whole oats or brown rice, is the first and preferably the only grain in the ingredient list. A great example is a cereal listing whole rolled oats as the only grain or a bread listing whole wheat as the only wheat. Alternatively, consider an egg for breakfast. "The huge amounts of refined starch and sugar that many people eat for breakfast, often thinking that this is the healthy choice, does far more damage to their well-being than an egg," says Harvard's Willett.
Non-fried chips and crackers
It's easy to believe these foods are healthful because of labels such as "baked," "low fat" or "gluten free." But most are made with refined grain or starch, which provide plenty of calories and few nutrients. Popchips, for example, are a new product marketed as healthful. But the ingredients are highly refined potato flakes, starch, oil, salt and about 14 additional things. Pita chips, made with white flour, oil, salt and several more ingredients, are no better. To boot, research shows that too much refined grains and starches increases the risk for heart disease, cancers, diabetes and weight gain.
Instead: Try Wasa or Finn Crisp Original Rye crackers. They're 100 percent whole grain and have little sodium. If you'd like a chip, try Terra Chips, made with sliced vegetables, or even a 100 percent whole grain chip fried in a healthy oil, such as olive or canola. Tortilla chips and SunChips are two examples. "Now that trans fats have been removed from most cooking oils, the healthiest part of potato chips is the fat," Willett says. "And chips made of whole grains rather than potatoes, like Frito-Lay's SunChips, can legitimately be considered a health food," so long as you keep to the one-ounce serving size.
*Peanuts are technically a legume, but we call them nuts nutritionally because their nutritional characteristics and health benefits closely match those of tree nuts.
Find this article originally printed in The Washington Post February 28, 2012
Listen to me discuss "Health Foods You Should Avoid" on WOR 710  Talk Radio NYC "The Joan Hamburg Show"
A jug of wine, NO loaf of bread, and thou?
See me explain how a gluten-free diet may do more harm than good on ABC-7
This article appeared in The Huffington Post
Hear me – and three other experts – discuss "The Gluten-Free Craze" on National Public Radio's The Diane Rehm Show. 
It's all the rage right now; in fact, you may be thinking of going on a gluten-free diet. Before you do, here are some things to think about:  First, you are likely to miss out on critical nutrients and health benefits only gained with gluten-containing whole grains.
Second, a gluten-free diet is a therapeutic diet for those with debilitating celiac disease, a serious auto-immune disorder which virtually destroys the intestinal tract. But celiac only affects about 1% of the population.
Third, the danger of self-diagnosing and taking gluten out of your diet prematurely is that you will would never be able to get an accurate diagnosis of your symptoms. An intestinal biopsy is the only way to detect celiac definitively.
People try a gluten-free diet because they are overweight, feel tired, bloated, and/or depressed, and find reducing gluten correlates with feeling better or losing weight. But that is more likely because they've cut out excess calories found in many flour-based snack foods and they mistakenly attribute feeling better to taking out the gluten. So, before you rush into a gluten-free diet, why not try something simple, say, an apple…  or exercise? Or would you prefer a life of no bread, pasta or birthday cakes? It's a tough row to hoe, and I'm here if you need me, as studies have found gluten-free diets can be seriously nutrient-deficient, low in fiber, iron, folate, niacin, thiamine, riboflavin, calcium, B12, phosphorus, and zinc. That's because so many "gluten-free" products are made with refined, unenriched grains and starches, which contain plenty of calories, but very few vitamins and minerals.
The new gluten-free industry is making millions from Americans' desperation to feel better. There has been an explosion of gluten-free junk foods, and I hope you don't become a victim.
But I have great news… many clients have thought they might need a gluten-free diet, but when we worked together at improving their nutrition and life balance, symptoms vanished! Perhaps that could be you?
If you take the following steps and find you do need a gluten-free diet, it can fill all your nutritional requirements, but only if done CAREFULLY…
Do You Need A Gluten-Free Diet? A Step-by-Step Guide
1. Have a complete check-up with your family physician,
2. Consult with appropriate specialists, such as an allergist for wheat allergy and a gastroenterologist for celiac or another GI disease,
A. If you have a wheat allergy, you must avoid wheat, but you do not have to avoid gluten from other grains,
B. If you have celiac disease, you must  avoid gluten – even the tiniest amounts (you must be eating gluten for the diagnosis to be made),
3. If you do not have a wheat allergy or celiac, visit a registered dietitian to verify that you are eating a balanced diet with plenty of nutrient-dense, naturally fiber-rich foods and adequate physical activity. A healthy diet and lifestyle reduces negative gastrointestinal symptoms, inflammation, boosts the immune system, improves brain function, reduces depression, and anxiety. If you are overweight, lose weight, as body fat can be toxic and produces hormones and pro-inflammatory chemicals which regulate metabolism, the immune system, inflammation, and the progression of artery hardening, so that when you have less body fat, you get many biological benefits, and feel better,
4. If symptoms persist, though in most cases they do not, you may be one of the rare people who are "gluten sensitive," though hopefully not, as it's a tough life. To confirm the diagnosis, and if a gluten-free diet is absolutely necessary for you – even though a gastroenterologist has verified you do not have celiac disease – visit your gastroenterologist, or the University of Maryland's "Center for Celiac Research," where they specialize in, among other things, detecting "gluten sensitivity," which may be a newly identified disorder.
What is Gluten?
Gluten is a protein in wheat and some other grains, such as rye and barley.  A gluten experiment in Food Science at the University of Maryland left a lasting impression on me about the function and importance of gluten. I kneaded bread dough under flowing water. As I kneaded the dough, the starch slowly washed away. What remained was a rubbery mass – the gluten – the protein in wheat which gives bread its structure.
Gluten-Containing Foods
Barley, Bulgur, Cereal Binding, Couscous, Durum, Einkorn, Emmer, Filler, Farro,  Graham Flour, Kamut, Malt, Malt Extract, Malt Flavoring, Malt Syrup, Oats which are not labeled "Gluten-Free" because they have been contaminated by gluten in the field or in the processing plant, Rye, Semolina, Spelt, Triticale, Wheat, Wheat Bran, Wheat Germ, Wheat Starch, and others…
Naturally Gluten-Free Whole Grains
Brown Rice, Whole Corn, Gluten-Free Oats, Millet, Teff, Sorghum, Wild Rice, Buckwheat, Amaranth, and Quinoa.
Wheat Allergy
WA is  an adverse immunologic reaction to wheat proteins, a classic food allergy affecting the skin, gastrointestinal tract or respiratory tract.*
Celiac Disease
CD is an immune-mediated enteropathy (intestinal disease) triggered by the ingestion of gluten in susceptible individuals. The onset of symptoms is usually gradual and characterized by a time lag of months or years after gluten introduction.*
Gluten Sensitivity
When both allergic (WA) and autoimmune mechanisms (CD) have been ruled out (diagnosis by exclusion criteria), individuals who experience distress when ingesting gluten may be considered as having GS.*
*"Spectrum of gluten-related disorders: consensus on new nomenclature and classification," BMC Medicine 2012, 10:13 doi:10.1186/1741-7015-10-13; Sapone, Bai, Ciacci, Dolinsek, Green, Hadjivassiliou, Kaukinen, Rostami, Sander, Schumann, Ullrich, Villalta, Volta, Catassi, Fasano.
It is critical that you are examined by a gastroenterologist before switching to a Gluten-Free diet.
Why? Once you eliminate gluten, it is virtually impossible to diagnose celiac, and the diagnosis of celiac, an extremely serious auto-immune disorder, should be your primary concern.
My Favorite Gluten-Free Guides
"Gluten-Free Diet: A Comprehensive Resource Guide" by Shelley Case, R.D.*
"Easy Gluten-Free" by Tricia Thompson, M.S., R.D. and Marlisa Brown, M.S., R.D.*
"Gluten-Free, Hassle Free" by Marlisa Brown, R.D., C.D.E.*
*Anyone giving gluten-free dietary advice should be a registered dietitian, and have the "R.D." after their name.
Don't forget, Diet Simple is filled with recipes, including some marked "Gluten-Free!"
Hear me – and three other experts – discuss
"The Gluten-Free Craze" on National Public Radio's The Diane Rehm Show.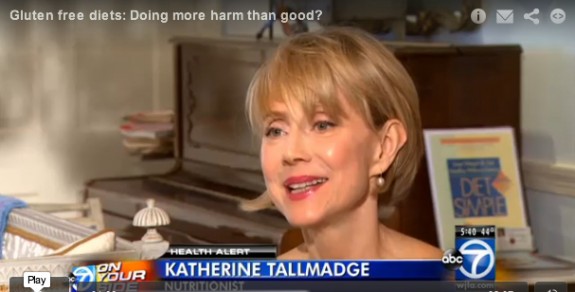 See me explain how a gluten-free diet may do more harm than good on ABC-7