Speaking
---
Her real life experience, proven track record and practical how-to solutions provide the boost your organization needs.
Call Katherine as a Speaker for Your Organization When You Need:

A keynote, break-out or spouse program
An employee in-service or wellness event
An off-site or executive retreat
On-going modules for successful, long term weight loss and wellness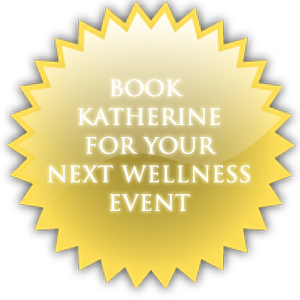 Improve Health, Wellness, Vitality & Performance NOW!

Health care costs are decimating today's corporations' bottom lines, according to President Obama and other experts. In the workplace, stress and weight issues are very costly to your company. Studies show, when your employees are over-stressed and overweight, this boosts medical costs and absenteeism.
* The anual cost to companies is estimated at an additional $60 to $2,500 per overweight employee.
* The cost of weight problems to a company of 1,000 employees is about $285,000 a year in medical costs and absenteeism.
*The cost is $7,000 per year (out of pocket expenses) for someone covered by an employer's health insurance.
* Studies show that companies supporting a healthy working environment increase their opportunities with customers and co-workers exponentially.
What can your business do?
Start one of Katherine's Wellness programs for happier, healthier, more vigorous, and productive employees – from the mail clerks and secretarial pool to the executive board room. My custom-designed interactive, motivational, inspirational, fun, information-packed presentations and wellness programs have been a great success for many area and national companies.
Benefits For Corporations
Happy, Energetic Employees, Saving Health Care and Insurance Dollars:
For Restaurateurs and Chefs
Learn about Health Trends Effecting Restaurants, Menu Labeling: Benefits for Your Business and Your Customers, and Finding Balance and Wellness in the Frenetic Pace of the Restaurant Industry
For Dietitians
Learn how to Develope a Mutually Beneficial Relationships with the Media, Improve Your Counseling Skills to Increase Client Success, Learn How to be the Leader in Nutrition
CLICK HERE FOR SPEAKING TOPICS
CONTACT KATHERINE: 202-833-0353