Farm to Table Recipes
---
Celebrate Your On-Going Transformation to a Healthier Lifestyle and Perfect Body Weight by Joining
My Diet Simple Community on Facebook
Get FREE support from me and others on the journey & enter my contest to win free Personalized Nutrition services…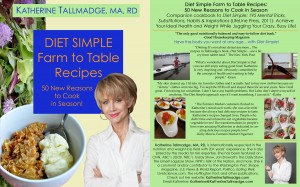 Click the book, download, save, and/or print! It's my gift to you!
"Katherine's recipes and helpful advice at our Farmers Markets has great impact and positively influences eating habits – she changes lives!" Kelly Morris, Farmer's Market Organizer… "Katherine and her recipes were very popular at our Farmers Markets where customers who claimed to hate vegetables, loved Katherine's vegetable recipes.
She turned vegetable haters into vegetable-lovers, simply amazing!"
Creating a "Diet Simple" Support Community on Facebook
I really enjoy hearing from you, getting regular updates about your health, your family, and your life. So, I'm going to take it to the next level and form an online "Diet Simple" community on Facebook. It will be our online space to support each other, share our cooking adventures, and celebrate our ongoing transitions to a healthier lifestyle and body weight. To encourage you to get in the habit of Facebooking with me, I'm running a contest.
Diet Simple Contest
1. Download and/or print my new Diet Simple Farm-to-Table Spring recipes,
2.  Try one of the recipes – or more – and share a picture and your impressions on my "Diet Simple by Katherine Tallmadge" Facebook page,
3. Everyone who posts a comment or picture will be entered into the contest,
4. Refer a friend to do the same, they'll be entered, and you'll be entered into the drawing twice.
The Winner: Chooses From the Following Prizes
1. A guided, personal shopping trip to the Farmers Market,
2. Private chef-for-a-night (I cook dinner at your home while you provide the ingredients),
3.  A 5-session nutrition counseling program,
4. A talk at your (local Washington, DC) workplace or conference, or
5.  Come up with your own idea and I'll consider it!