Interview with Katherine
---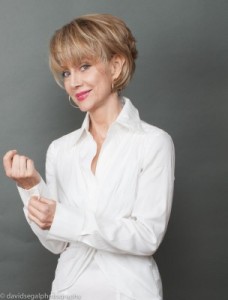 An Interview with Katherine Tallmadge, MA, RD
Author of "Diet Simple: 195 Mental Tricks, Substitutions, Habits & Inspirations"
(June 2011, LifeLine Press)

Katherine, the title of your book is Diet Simple. But it doesn't seem very simple for a lot of people does it? No, and it hasn't always been simple for me, either. I struggled painfully with weight yo-yo'ing for many years. I even felt the despair of having a full blown eating disorder. It wasn't until I discovered the principles which I have written about in Diet Simple that I was able to lose the weight and keep it off. Today, I feel the relief and happiness of having overcome my own problems. And, more importantly, I have helped thousands overcome their eating and weight problems through my techniques. It's been a truly liberating experience for me and my clients.
What is unique about your approach? It's individualized and it's painless! I know this concept is counter-intuitive. Most people believe that in order to achieve big results, you have to do something radical. But the truth is, study after study shows it's the small, easy changes you make in eating that have the most dramatic and lasting results. And, I believe, the radical diets actually backfire and don't produce results. If they produce anything, it's eating disorders, feelings of deprivation and depression, and demoralizing yo-yo'ing weight.During the past twenty years as a weight loss counselor, I've witnessed the joy, surprise and relief of my clients as they learned that losing weight my way is an easy and positive experience.  My clients and I have discovered that losing weight doesn't have to be a frustrating, angst-ridden chore, like the dozens – even hundreds- of diet plans touted on television and in magazines. But nearly every one of those "diets" results in yo-yo gains and losses, slowing your metabolism and making you heavier than ever before. They're depressing, depriving and they leave you lifeless, denied of vital energy.Diet Simple is based on those small, easy changes you make in eating and behavior that will give you the dramatic results you've been dreaming of. Diet Simple provides an individualized approach to weight loss. You choose the techniques which match your personality and lifestyle.For instance, I provide dozens of techniques especially designed for Emotional Eating, Frequent Travelers, "Disorganized" Eating, Children, Families, Frequent Partiers, and Restaurant-Goers. All the tips can be customized to meet individual needs, whether you want to lose 10 pounds or 50.
Can you give us some examples of your techniques? In Diet Simple, I present more than 195 ways to shed pounds, for example: how snacking can help you lose 35 pounds; how eating more in the morning will make you lose 31 pounds; how a chocolate sundae will shed 20 pounds.Let me give you one specific example. For instance, if you're drinking two glasses of wine each evening and you're willing to cut it down to just one glass, this simple change could produce a 15 – pound weight loss over the course of a year.Diet Simple is full of dozens and dozens of examples like this that can literally change your life.My book shows how simple substitutions, mental tricks, habits, and inspirations can produce big results.
What inspired you to become a weight loss consultant and write your new book, Diet Simple? I first started thinking about weight problems when I was a child in Ohio. A vivid memory from childhood was finding my mother weighing peas at the kitchen counter before dinner. The peas were scattering all over the counter and floor and I helped her pick them up. "Mom, what are you doing?" I asked. Weighing peas, after all, seemed like a very strange thing to do. "I'm fat," she replied. "I'm on a diet and I have to lose weight." Now, you have to understand that my mother was – and is – a beautiful Swedish woman. She is artistic, funny and has always had tons of friends. But all she could think about was how fat she was. She hid behind us kids in photographs and always put off doing things for herself, like buying new dresses, until she would "lose weight" – which she never seemed to do. The shame and disappointment she felt was something that stayed deep inside me.Years later, when faced with choosing a major in college, I picked nutrition in undergraduate school and behavioral sciences in graduate school. I wasn't even aware of the inner voices affecting my decisions at the time. It's only now, after years of reflection, that I realize why I'm so passionate about my work. I chose this as my life's vocation so that I could help people like my mother. When my own weight problem developed and caught me by surprise in college, and it eventually turned into an eating disorder, I was determined to solve my own problem so that I could help myself avoid the pain my mother experienced and be a better counselor in my career.
What qualifies you to write this book? My professional career has evolved in response to my desire to make a real difference in people's lives. While studying nutrition in college, I was dismayed at the overwhelmingly negative results in weight loss studies. People who went on diets gained their weight back 95% of the time. I thought, what good is all this nutrition knowledge if people aren't benefiting? I was determined to make a difference, so I decided to study behavioral sciences in graduate school to help me figure out what makes people tick and how to best help them change. My graduate studies also helped me become a better counselor which, I believe, has been necessary for my clients' success.But the real reason I've been able to help so many people over the years is the time I've spent listening to and understanding my clients, becoming intimately involved in their day to day routines, and analyzing their many successes and failures. Solving my own eating disorder and weight problem has also given me empathy and insight into their unique needs and has convinced me that anyone can conquer this problem.The bottom line is that I'm no sanctimonious preacher looking down at a congregation of sinners. I've been there! And I know what it takes to come back from those depths of despair. I'm passionate about helping people solve their weight problems, which, I believe, saps them of health, energy and happiness. Let alone all of the horrible and preventable diseases which inevitably occur.When I learned how easy and positive weight loss could be and how it could transform lives, I wanted to scream it from the rooftops. Diet Simple is my way of screaming from the rooftops!