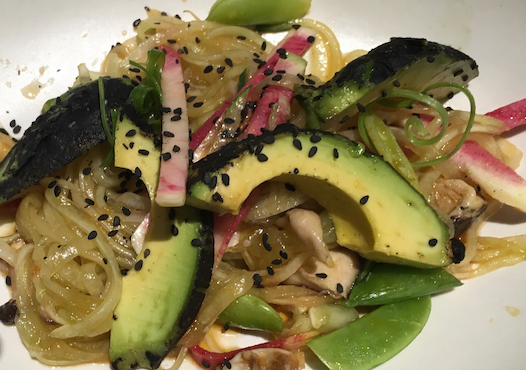 I encourage my clients to explore new and delicous ways of enjoying food. In fact, in my weight loss or lifestyle transformation programs, all favorite food is included. Why? Because "taste" will always be the primary reason we humans are willing to eat something. Good tasting food kept us alive during evolution. Anything that tasted bad might have killed us! We still have that instinct today.
So, if a "diet" or "healthy" dish you're eating isn't delicious, or it's something with which you're getting bored, you won't stick with your healthy lifestyle. Eating food that you love is the only sustainable way to live.
This brings me to my client, Noah Arber's, story, as she told it to me …
"Katherine! I had an incredible dining experience at True Food Kitchen in downtown Bethesda, Maryland – and many other locations – that I think your other clients might want to know about. I believe this restaurant is unique, from the food they serve, to the modern and trendy decor. They not only serve delicious and appealing food, but every item on their menu is made using colorful, fresh, and healthy ingredients. It was so enjoyable, I went back the next day. Not only was there a delicious variety to choose from, but I felt good after my meal, knowing I had put fresh, non-fatty or processed ingredients into my body. Even after trying their fruity sangria and their flourless chocolate cake, I was still down half a pound the next morning!
The first time there, my friend and I started our meal with the "Torched Avocado," with cucumber noodles, mushrooms, snap peas, radishes, sesame, and turmeric ponzu. Next was the "Shiitake Lettuce Cups," with tofu, jicama, sambal, thai basil, and cachew. These dishes were beautifully presented and bursting with flavors I had never tasted before – not to mention I was eating fresh, healthy ingredients.
For our entrees, we enjoyed "The Ancient Grains Bowl" with miso glazed sweet potato, turmeric, charred onion, snow peas, grilled portobello, avocado and hemp seeds. The following day, we tried the "Spaghetti Squash Casserole," with caramerlized onion and fresh mozzarella, and the "T.L.T. Sandwich," on multigrain toast with smoked tempeh, butter lettuce, tomato, avocado, and vegan mayonnaise. Our side was "Roasted Sweet Potato and Kale Salad."
Needless to say, I enjoyed all the foods I tried. They were some of the most delectable dishes I've experienced in the D.C. food scene. I ordered their True Food cookbook, so I can make the recipes at home. I would definitely recommend you tell your friends, family, and especially your clients about it. It was truly a healthy, and most importantly, a deliciously indulgent experience. Who says you can't eat healthfully and enjoy yourself too?"