Katherine's Labor Day Recipe: Fresh Summer Salsa with Watermelon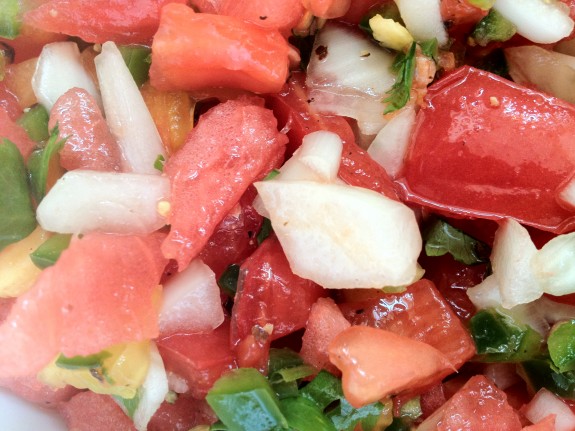 My Aunt Betse has been making fresh salsa since the 1960s when she and her engineer husband lived in South America. So I have been exposed to fresh salsa long before its popularity took off in the United States. In fact, I suppose I could have been a multi-gazillionaire by now  if my college roommate and I decided to go ahead with our idea of packaging and selling my fresh salsa in the early 1980s. Oh well…
Salsa is traditionally made with tomatoes, onions, hot pepper, cilantro, lime juice and salt. But I like to add seasonal fruits and vegetables to keep it interesting. In the spring, I add strawberries, in the summer, it's watermelon, which is especially sweet this year. You could even add celery, carrots, greens, mangos – really, anything goes. In the winter, use canned Italian plum tomatoes.
Today is the 6th of "Katherine's Weekly Market Recipes," all of which are designed to be delicious, easy, quick, family-friendly, nutritious (heart-healthy & diabetes-friendly), and to highlight produce found at our local Farmers Markets this week. At your Farmers Market, you'll find produce picked at peak ripeness, which means maximum flavor, texture and nutrition. You're also helping save the environment when you buy at your Farmers Market. Here's how…
So that your salsa is enjoyed for Labor Day festivities, I recommend you buy the tomatoes, watermelon, onion and peppers at the Glover Park – Burleith Farmers Market on Saturday, Dupont Circle's Fresh Farm Market on Sunday, and Georgetown's Rose Park Market on Wednesday.
Katherine's Spicy Salsa with Watermelon
excerpted from "Diet Simple: 195 Mental Tricks, Substitutions, Habits & Inspirations" (LifeLine Press, 2011)
I usually use vine-ripe tomatoes for my fresh salsa, excerpted from my book, Diet Simple. But watermelon is a surprising and exotically delicious substitute for all the tomatoes, or just half of them – as in this version. Serve this salsa with grilled salmon, chicken or beef… even tortilla chips… whatever you may traditionally use salsa with. My friend, Marc Marzullo, said this salsa was "refreshing, light, and delicious, and I especially like the vegetables chopped in larger chunks." Since this salsa is getting eaten up today, I didn't bother adding the lime juice. If you would like your salsa to last longer in your refrigerator, use vinegar instead of lime juice.
22 servings
Ingredients:
1 lb vine-ripe, fresh tomatoes, coarsely chopped (start with about 1-1/2 lbs)
1 lb chopped watermelon, seeds removed
1 large candy onion, peeled and chopped (about ½ pound)
3 – 4 jalapeno peppers (1 – 2 ounces) – or other hot seasonal peppers, to taste
¼ cup chopped fresh cilantro
½ tsp salt, or to taste
freshly ground pepper, to taste
3 – 4 Tbsp fresh lime juice (1 – 2 limes), optional, or vinegar if you wish for the salsa to last longer in your refrigerator
Add the onion to the tomatoes and watermelon. Finely chop 2 of the jalapeno peppers to start with. Taste. If you desire more heat, add 1 – 2 more jalapenos. Mix in the cilantro. Add the salt and pepper, depending on your taste. Mix in the lime juice, if you wish.
Call Katherine: 202-833-0353 or Email Her
For more fabulous tips and simple, effective ways to lose weight,
buy her book, Diet Simple!