"Black Bean and Mango Salad with a Citrus Herb Dressing"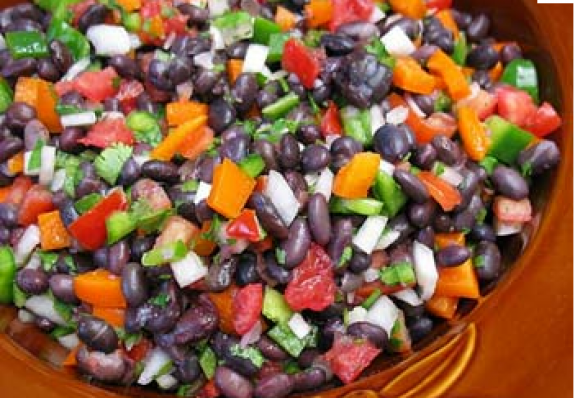 This hearty salad by my friend, Phyllis Frucht,* has all the elements of a great main course in the spring and summer: hearty beans, sweet mango, crunchy pepper and onion, tart lime juice, hot jalapeno. This dish is quick to prepare and perfect for a busy family, a pot luck, a picnic or a light lunch.  Double the recipe so you'll have plenty for everyone.
Serves 6
1 Can Black Beans, drained and rinsed
1 Mango, peeled and diced
1 Red Bell Pepper, seeded and diced
1/2 Cup Red onion, diced
1/4 Cup Lime Juice
1/4 Cup Orange Juice
1 Tbsp honey
|1 Tbsp Lime Zest
1 Tbsp Orange Zest
1 Tbsp Herbes de Provence
1 Jalapeno Pepper, seeded and minced
1/4 Cup Cilantro, Chopped
Combine the beans, mango, red pepper and onion in a bowl.  Mix the rest of the ingredients. Toss well and serve.
Per serving: Calories 110,   Saturated Fat 0 g  (0%), Cholesterol 0 mg  (0%), Sodium  380 mg (16%), Total Carbohydrate 23 g,  Dietary Fiber  5 g,   Soluble Fiber  0.66 g, Omega 3 Fatty Acids 0.02 g, Protein  5 g,  Vitamin A  50%, Vitamin C  110%, Calcium 4%, Iron  10%
*Phyllis Frucht is a chef and a teacher specializing in International cuisine from the Orient to India, Europe, the Middle East, the Caribbean, and more.  She gives instruction for a lucky few in Washington, D.C.  in elegant hands-on classes which include generous samplings of the foods with matching beverages and wine.
Call Katherine: 202-833-0353 or Email Her
For more fabulous tips and simple, effective ways to lose weight,
buy her book, Diet Simple!