Strawberry Granita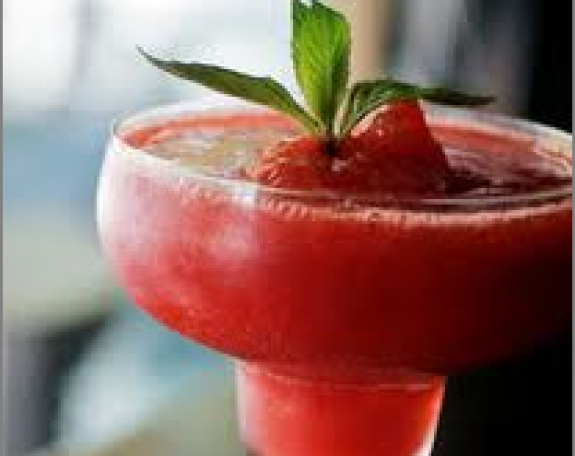 Strawberry Granita is excerpted from my book, "Diet Simple." The best ice cream in the world can be found in Italy, hands down. But much more typical of Italian fare is granita, the wonderfully fresh, flavored ice that is so refreshing after a meal. Here is a granita you can whip up in a flash, and at any time of the year. Even though it is based on frozen strawberries, the taste says "fresh" thanks to the helpful addition of orange flavoring.
8 servings
grated peel and juice of 1 orange (or 1/4 cup of another juice)
2 teaspoons orange liqueur or another liqueur (optional)
20 ounces frozen sweetened or fresh strawberries (or other fruit in season)
Optional: 1 Tablespoon Sugar (if using fresh strawberries), or Splenda
Optional: 8 mint sprigs
Put eight small sherbet dishes in the refrigerator to chill. If using fresh berries, place them in the freezer until frozen. Cut the frozen sweetened or unsweetened berries into large-sized chunks and put into a food processor. Add the orange juice, peel, and liqueur. Add sugar or Splenda, if using fresh strawberries and they aren't sweet enough. Pulse for about 30 seconds to break up the chunks, then process on high until the mixture is smooth. When the mixture has been pureed, spoon immediately into the chilled dishes and place in the freezer. If the granita has been frozen for more than six hours, remove it from the freezer 10 minutes before serving time. If desired, decorate with the mint sprigs.
(Muffin cup liners can also be used. Fit each one into a cup in the muffin pan and fill to the 3/4 level, the frozen ice will expand. Place immediately into the freezer.)
Per serving: 80 calories, 0 grams fat, 20 grams carbohydrate, 2 grams fiber, 0 mg sodium, 0 grams protein
Spring is wonderful for many reasons, not the least of which is the return of fresh ripe berries. Every week, I hustle to my farmers markets to see what is waiting for me. Right now, it's strawberries: picked at their peak, they are tender, sweet, juicy and red throughout – but they have a very short season, so get them while you can!
There are very few foods that match the beautiful color and intense flavor of berries. And, fortunately, these fruits are nutrition superstars. More about nutrition benefits of BERRIES!
Call Katherine: 202-833-0353 or Email Her
For more fabulous tips and simple, effective ways to lose weight,
buy her book, Diet Simple!