Pasta with Pesto, Roasted Asparagus Spears and Cherry Tomatoes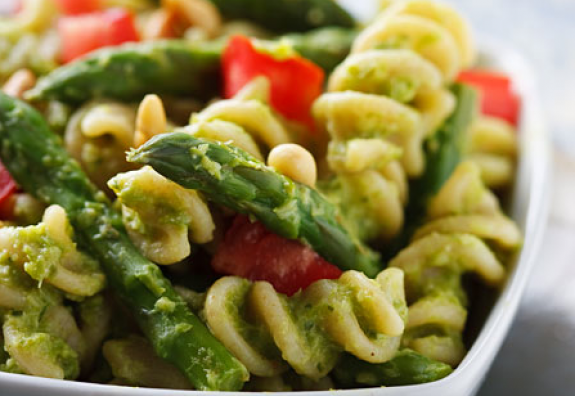 Whole Grain Pasta with Pesto, Roasted Asparagus Spears and Tomatoes
Serves 4 – 6
Ingredients:
1 pound Asparagus, trimmed
1 Tbsp Canola or Olive Oil
1 Quart Grape or Cherry Tomatoes
¼ Cup Basil or Tarragon Pesto
1 Pound Whole Grain Linquine or pasta twists, dry (My favorite brands are  "Bionaturae" or "Barilla")
Salt and Freshly Ground Pepper, to taste
Roast the asparagus and tomatoes:
Preheat oven to 425 degrees.  Clean the asparagus, break off tough ends. If you wish, peel the stalks for a more tender vegetable. Slice the asparagus stalks diagonally into bite-sized or approximately 1.5 inch pieces. In a large bowl or plastic bag, toss the tomatoes and asparagus pieces in 1 Tablespoon of Canola or Olive Oil and a light sprinkling of salt and pepper until the asparagus is coated lightly with oil. Place on a baking sheet in a single layer and cook for 5 minutes in the middle of the 425 degree oven. Do not overcook!
When finished cooking, pour the asparagus and tomatoes into a large bowl containing the pesto and toss.  Add the cooked pasta and mix all ingredients. Serve warm or chilled. About 200 calories per serving (1/6th of recipe).
Call Katherine: 202-833-0353 or Email Her
For more fabulous tips and simple, effective ways to lose weight,
buy her book, Diet Simple!