Winter Salad of Orange and Pomegranate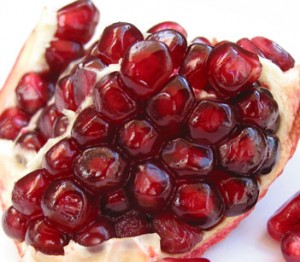 Winter Salad of Orange and Pomegranate
From Najmieh Batmanglij in "Cooking With Les Dames d'Escoffier"
This is my favorite winter salad; my friends request it at every holiday meal. As is the case with so many of my friend Najmieh's creations, it's colorful, fresh, light, tart, sweet, crunchy; it has every element that makes a dish perfect (I just love the way pomegranate seeds pop in my mouth and give me an explosion of flavor). It takes advantage of seasonal fruits (though, not local, unfortunately, unless you live in Florida or California)! You can place atop a bed of greens if you wish, with arugula being especially good.
4 servings
Ingredients:
1 Cup (about 1 large pomegranate) pomegranate seeds or 1 cup pitted and sliced Medjool dates
6 Large Oranges, peeled and cut into section, membrane removed
¼ Cup Finely Chopped Candied Orange Peel (store-bought or home-made) OR 1 tsp finely chopped orange zest (no pith), if using dates
½ Cup freshly squeezed Orange Juice
1 Tbsp freshly squeezed Lime Juice
1 tsp Orange Blossom Water
2 ounces Sheep's milk cheese, such as Pecorino Romano OR aged Goat Cheese, cut into shavings with a potato peeler (Najmieh recommends 8 ounces)
1/3 Cup Chopped pistachios
Pistachio Oil or light-bodied Extra-Virgin Olive Oil
Instructions:
In a bowl, combine the pomegranate seeds, orange segments, candied orange peel, orange juice, lime juice and orange blossom water. Cover and chill in the refrigerator for at least 30 minutes. To serve, distribute the fruit mixture among 4 plates. Alongside the fruit, place a portion of cheese and top with the chopped pistachios and a light drizzle of oil. Serve immediately.
Pomegranates are high in Vitamin C, potassium, fiber, and are low in calories. They also contain important antioxidants called polyphenols, such as tannins, anthocyanins, and ellagic acid, which are also present in many fruits, particularly berries, all important in the fight against cancer and heart disease.
Call Katherine: 202-833-0353 or Email Her
For more fabulous tips and simple, effective ways to lose weight,
buy her book, Diet Simple!