Swiss Chard Quesadillas with Chipoltle Salsa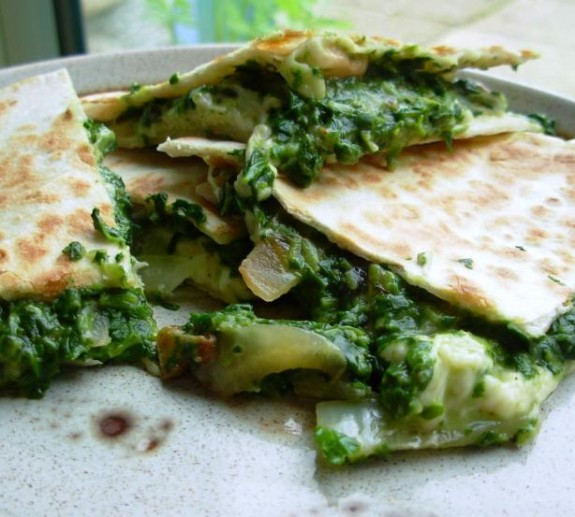 Swiss Chard Quesadillas with Chipoltle Salsa
by Chef Janis McLean
These are goooooood! I discovered this recipe when my friend, Janis, was demonstrating it at the Capital Harvest on the Plaza (C.H.O.P.) Farm Market, where I love educating the visitors about how to cook healthy, delicious, and seasonal recipes. It wasn't easy fighting my way to the front of the line to get my own taste of Janis's quesadillas, which that day were made with Kale instead of Swiss Chard… but the fight was worth it! I'm so lucky Janis has provided so many recipes for my book, Diet Simple; all have become favorites – of mine and my guests. I believe Janis's talent for designing delicious recipes is unsurpassed. This is one of many you'll just love!
Makes 10 Quesadillas
The Sauteed Onion & Pepper Mixture
Ingredients:
2 onions
1 poblano pepper, cut in half and de-seeded
2 tablespoons Canola or Olive Oil (Janis uses butter, but oil works great!)
1/4 teaspoon salt
1/8 teaspoon ground coriander
1/8 teaspoon ground cumin
The Swiss Chard or Kale Filling
Ingredients:
1 pound swiss chard, OR spinach OR kale – de-stemmed
1 tablespoon Canola or Olive Oil (Janis uses butter, but oil works great)
2 cups shredded Queso Fresco cheese (or substitute Monterey Jack)
The Tortillas
Ingredients:
Canola oil
20 whole wheat flour tortillas or whole corn tortillas, 5 1/2" diameter (Janis uses white flour tortillas, but whole grain works great)
1 1/2 cups Chipoltle Sauce
Instructions:
1. To make the caramelized onions, cut the top and bottom off of the onions and then cut them in half. Then slice each half into thin slices, running pole to pole (tip to stem of the onion). Cut the poblano pepper into thin julienne strips (be careful to not touch your face and eyes while you are handling the pepper). Place a 10 or 12-inch skillet over medium heat the oil. Add the onions, peppers and season with the salt, coriander and cumin. Stir to combine – and turn the heat down to low. Cook until the onions are translucent. Then, turn the heat up to medium and continue to cook until the onions slowly turn a caramel color. Stir from time to time and if bits begin to stick to the bottom, stir in 1/4 cup of water and deglaze the pan by stirring and loosing up all the yummy caramel bits!
2. Wash the Swiss chard leaves in a large bowl of cold water. Peel the leaves off of the stem and then chop the stem sections into a small dice. Take the remaining leaves and stack one on top of the other — roll it up — and cut into 1/8 of an inch "ribbons". Keep the stems and the leaves in two separate piles.
3. Heat a 9' skillet over medium-high heat until hot, but not smoking (3 minutes). Toss in the remaining oil, and let it heat. Add the diced chard stem and cook over brisk heat until tender (about 1 ½ to 2 minutes). Add the chard leaf ribbons in the pan and cook for a minute until wilted.
4. When the onion mixture is caramelized, tip it into a medium sized work bowl. Add the Swiss chard and 1/2 cup of Chipoltle sauce. Stir to combine.
5. Heat a large heavy skillet up over medium heat (cast iron is great to use if you have it). When hot, swirl in enough canola oil to coat the bottom of the pan. Slip in two or three tortillas in to the pan (how ever many will fit). Top with a small handful of Queso Fresco (or Monterey Jack Cheese) on to each tortilla. Spoon a heaping tablespoon of the chard/onion filling over the cheese and then place a second flour tortilla on top. Press down lightly on each quesadillas. When the bottom of the tortilla is golden brown, use a spatula to flip it over and toast the other side. Add a touch more of the canola oil as you are flipping the quesadillas over so they brown nicely. Remove when golden brown on both sides, and continue with the rest of your tortillas. Cut into wedges and serve warm.
Chipoltle Salsa
This is a classic New Mexican style sauce in that the purée is "fried" briefly and then cooked on a low simmer. This is an extremely versatile sauce and great on enchiladas, tamales, and the like.
Ingredients for 4 Cups of the Chipoltle Salsa:
1 large Chipoltle Pepper (or 2 small)
2 cloves of garlic
2 small onions (or 1 large) (+/- 6 oz)
28 oz can of plum tomatoes
1 cup chicken stock
2 Tablespoons canola oil
1 teaspoon salt (Katherine advises cutting or eliminating the salt)
Instructions for the Chipoltle Salsa:
1. Cut the onions into small chunks. Purée the Chipoltle pepper, garlic, onion, and tomato together with 1 cup of chicken stock in a blender. Purée until smooth. Pour the purée through a medium sieve, pushing it through with a spatula. Discard all the tough bits left in the sieve.
2. Heat a 10-inch skillet on medium high heat for two minutes, until it is hot. Pour in the two tablespoons of oil (peanut or canola) and swirl to film the bottom of the pan. Carefully, stand back a bit, as it will splatter, pour in puréed pepper/tomato sauce. Turn the heat down to medium and after the sputtering has subsided, give it all a good stir. Add a teaspoon of salt and stir to combine. Then turn the heat down to medium low and simmer for a half-hour.
Deep Green Leafy Vegetables have the highest antioxidant content of all vegetables. High in fiber, they are rich in minerals, B-vitamins, beta-carotene, and lutein, a compound which may help reduce the risk of age-related macular degeneration (the leading cause of preventable blindness). Absorption of carotenoids, such as lutein, in your body is increased by cooking and by the presence of fat (so cook in a little healthy olive or canola oil!)
Call Katherine: 202-833-0353 or Email Her
For more fabulous tips and simple, effective ways to lose weight,
buy her book, Diet Simple!