Katherine's Special Holiday Cookies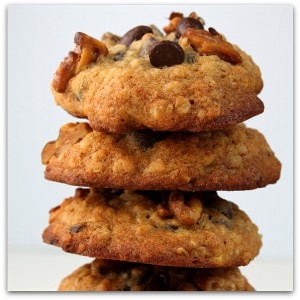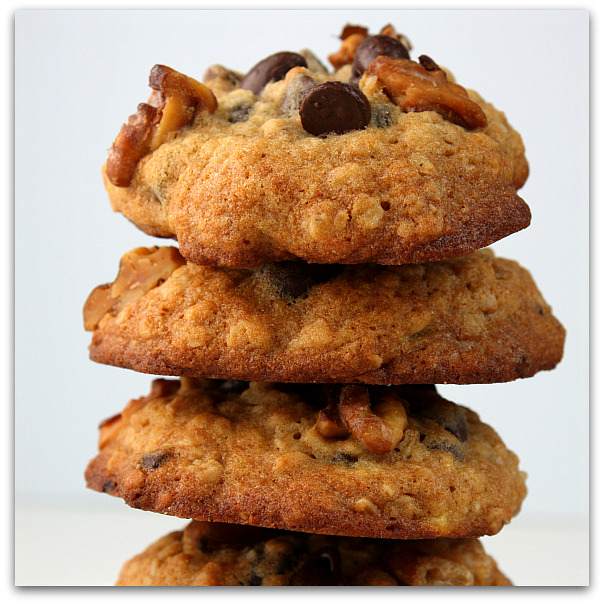 Katherine's Special Holiday Cookies
These are my three favorite cookie recipes. They're  healthier than most, and my clients and friends rave about them. I think you might too! Bake and eat with caution…
Kjerstin's Swedish Almond Cookies
Makes 24 cookies
Ingredients:
8 1/2- 9 oz almonds
1 1/2 C powdered sugar
2 eggwhites
2-3 drops green food dye (if desired)
Blanch and grind almonds until very fine – like flour. Add sugar, stir in egg whites and mix well.
Make 24 tablespoon-sized round balls and push a piece of slivered blanched almond in the middle
Bake in 350 oven for about 15 – 20 minutes.
* You can buy blanched and slivered almonds in most stores. Some stores even sell almond flour (just make sure it is from whole, pure almonds).
Nutrition Information per cookie: 82 calories, 2.5 grams protein, 5 grams fat, 9.6 grams carbohydrates (0.4 grams saturated fat), 1 gram fiber.
Lighter Chocolate Chip Cookies
Makes 36 -2″ Cookies
Ingredients:
2 Large Eggs
1 Cup Dark Brown Sugar
1/2 Cup White Sugar
1 tsp Vanilla Extract
2 Tbsp Skim Milk
1 Cup Whole Wheat Flour
1 Cup White Flour
1 tsp Baking Soda
1 tsp Salt
1 Package (12 oz) Chocolate Chips
1 Cup Chopped Walnuts, or more to taste (and for increased Omega-6 and Omega-3's)
Preheat oven to 375F and lightly coat two cookie sheets with vegetable oil spray.
Beat together eggs, brown sugar, white sugar, vanilla, and skim milk until thick and uniformly mixed (do not overmix). Add whole wheat flour, white flour, baking soda, and salt, and beat again until well combined. Add more white flour, a tablespoon at a time, if necessary, beating after each addition, until mixture is no longer wet-looking and is thick enough not to run off the beater when beater is lifted from bowl. Add chocolate chips and nuts and mix until chips and nuts are evenly distributed.
Drop dough onto cookie sheets by teaspoonfuls, leaving about 2 inches between cookies. Bake 8-10 minutes, or until only slightly browned and no longer wet when touched. Cookies will become hard if overbaked, so watch them carefully.
Cool 4 – 5 minutes on cookie sheets, and then transfer to rack.
Each cookie: 108 calories, 4.6 grams fat (1.6 grams saturated fatty Acid, 1.6 grams Omega-6 and Omega-3 Polyunsaturated Fatty Acids), 14 mg Cholesterol, 16 grams carbohydrates, 1.8 grams protein, 91 mg sodium

Katherine's NOTE:
I've mixed chocolate with butterscotch chips, added more nuts (for nut lovers), and even candied cherries. It's a very versatile recipe…
Chewy Meringue Cookies
Makes 20 cookies
Ingredients:
3 large egg whites
1/2 cup confectioner's sugar
1 cup chopped dried peaches, apricots or other dried fruit
1 cup sliced almonds or other chopped nuts
1 Tbsp cornstarch
1/4 tsp cinnamon (optional)
1. Preheat oven to 300 degrees.  With an electric mixer, beat the egg whites until foamy. Slowly add the sugar until the meringue is thick, glossy and holds soft peaks.
2. In another bowl, mix the dried fruit, nuts, cornstarch and cinnamon. Fold into the meringue.
3. Spoon heaping tablespoon-sized dollops on a greased baking sheet or a sheet lined with parchment paper or a nonstick liner.
4. Bake 35 to 40until they are lightly brown and crisp on the outside.
Nutrition Information per cookie: 51 calories, 1 gram protein, 2.4 grams fat (1.5 grams monounsaturated, 0.6 grams polyunsaturated, 0.2 grams saturated), 11 grams carbohydrate
Katherine's Note: This recipe has many variations. Instead of one cup of dried fruit, you can use 1/2 fruit and 1/2 chocolate chips or other candies (though that adds to the calories)
Call Katherine: 202-833-0353 or Email Her
For more fabulous tips and simple, effective ways to lose weight,
buy her book, Diet Simple!