Strawberry Granita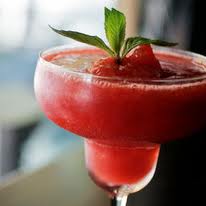 Carole Cutler's Strawberry Granita
From "Diet Simple: 195 Mental Tricks, Substitutions, Habits & Inspirations"
(June 2011, LifeLine Press)
The best ice cream in the world can be found in Italy, hands down. But much more typical of Italian fare is granita, the wonderfully fresh, flavored ice that is so refreshing after a meal. Here is a granita you can whip up in a flash, and at any time of the year. If using frozen strawberries, the taste says "fresh" thanks to the helpful addition of orange flavoring.
8 servings
Grated peel and Juice of 1 Orange
2 teaspoons orange liqueur (optional)
20 ounces frozen sweetened or fresh strawberries, (and/or raspberries and/or blueberries, if desired and in season)
1 Tablespoon sugar (optional, if using fresh berries)
Optional: 8 mint sprigs
Put eight small sherbet dishes (or martini glasses) in the refrigerator to chill. If using fresh berries, place them (along with the sugar, if desired) in the freezer until frozen. Cut the frozen sweetened or unsweetened berries into large-sized chunks and put into a food processor. Add the orange juice, peel, and liqueur. Pulse for about 30 seconds to break up the chunks, then process on high until the mixture is smooth. When the mixture has been pureed, spoon immediately into the chilled dishes and place in the freezer. If the granita has been frozen for more than six hours, remove it from the freezer 10 minutes before serving time. If desired, decorate with the mint sprigs.
(Muffin cup liners can also be used. Fit each one into a cup in the muffin pan and fill to the 3/4 level, the frozen ice will expand. Place immediately into the freezer.)
For children or the child in YOU, MAKE POPSICLES! Pour the Granita into 8 popsicle molds. Who knew eating healthy could be so delicious and FUN!
Per serving: 80 calories, 0 grams fat, 20 grams carbohydrate, 2 grams fiber, 0 mg sodium, 0 grams protein
Carol Cutler is the award-winning author of eight cookbooks, a syndicated columnist, and restaurant critic. She has often appeared on television cooking shows. She and her journalist husband have traveled extensively, savoring authentic cuisine at its source.
Did you know that there are 200 seeds on each strawberry?
Strawberries are members of the Rose family and there are over 600 different varieties. Choose freshly picked, ripe berries, as they will be the tastiest and will have the most nutrients. "Look for berries fully formed, bright red, without bruising or soft spots and with fresh-looking green caps. Beware of buying out-of-season strawberries, as sometimes they are picked when they are only 40% ripe. These berries may turn red, but they will never develop sweetness," according to Janie Hibler in "The Berry Bible."
Strawberries (and other berries) are considered a "superfood."
They have one of the highest antioxidant and nutrient contents of all foods, yet they are low in calories, so you can eat them in unlimited quantities. In fact, for your health, the more the better! "A serving of eight strawberries contains more vitamin C than an orange. Strawberries are also rich in folate, potassium, and fiber. They're especially high in cancer- and heart-disease-fighting phytonutrients (beneficial plant compounds) called flavonoids, anthocyanins, ellagic acid, quercetin, catechin, and kaempferol," according to David Grotto in "101 Foods That Could Save Your Life."
Call Katherine: 202-833-0353 or Email Her
For more fabulous tips and simple, effective ways to lose weight,
buy her book, Diet Simple!