"MyPlate" Menus Made Easy – and Tasty!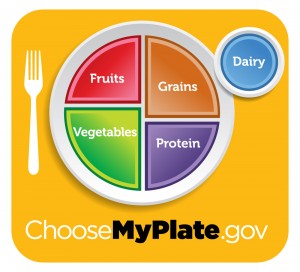 From pyramids to plates! Are you confused about what should be on your plate? The Washington Post asked me to design menus based on MyPlate to help clear up some of the confusion. It was so fun for me – and easy, because I had everything I needed already in my book, Diet Simple, where there are tons of menu and recipe ideas which fit perfectly into MyPlate.gov's scheme. What do you think of MyPlate, The United States Department of Agriculture's new food plate designed to help Americans make better food choices? Will it help you improve your eating habits? When Bonnie Benwick, reporter for The Washington Post's "Food" section contacted me and asked me to put together menus based on the My Plate icon and the Dietary Guidelines, I was delighted and up for the challenge.
When I create meals and menus I like to keep certain things in mind: number one is TASTE. Your meals must taste good, you have to really enjoy your meals, every bite. They must be interesting, full of flavor, texture, several different food groups and nutrient-dense. I also must keep them SIMPLE. My recipes are simple and quick, and are usually batches which can be eaten for several meals.
BREAKFAST
My breakfast philosophy is that it should contain 1/3 of the daily calories and protein, and contain all four food groups: protein/dairy (in this case, the protein is in the dairy), whole grain (oats, which also lower bad cholesterol), Heart healthy fat (nuts – which lower bad cholesterol and raise good cholesterol), and fruit or vegetable must be at least half of the volume (the dried cranberries, the blueberries and the OJ). I've picked very high nutrient and anti-oxidant fruits for this meal. All of the foods are important for the immune system, and building muscle and bone.  It's full of different flavors, textures, a full complement of important nutrients, including fiber. My friends, family, and clients LOVE Katherine's oatmeal and begin feeling it is their favorite meal of the day. It holds them and prevents that ravenous feeling all day long:
Katherine's Fabulous Oatmeal (excerpted from "Diet Simple" [June 2011, LifeLine Press])
½ Cup Rolled, Old Fashioned Oats
1 Cup Skim Milk or Soy Milk
1 ounce chopped (one cupped handful), roasted, unsalted almonds, or other nuts
¼ cup Dried Cranberries** or other dried fruit
Place all ingredients in a large glass bowl (need a large bowl as the mixture bubbles up) and into the microwave for 4 – 5 minutes. When finished, let sit in the microwave another minute to let the oats soak up the liquid.
Add:
1 tsp honey/maplesyrup/brown sugar or Splenda for sweetness (optional, to taste)
1 Cup Blueberries or other fruit
Beverages:
½ cup Orange Juice
Green Jasmine Tea (or coffee)
LUNCH
I created a three-course, "sit-down" elegant lunch with a fun-to-eat appetizer which takes time to eat, as you pop the edamame peas into your mouth with your fingers. The main course is a vegan recipe which has been very popular, and takes minutes to make. Then I included more protein/dairy as the dessert, which I think is more creative and fun than drinking a glass of milk. Also, I find when something sweet – even fruit – is part of the meal, people are less likely to crave sweets. We naturally crave all the different flavors and if our meals are too one-dimensional, we start craving the other flavors and are less likely to stick with healthy eating. As MyPlate requires, this meal definitely contains at least half the volume as vegetable/fruit, and vegetarian protein sources: edamame, chick peas, and yogurt, as well as heart healthy fat in the edamame and in the lemon/olive oil vinaigrette for the Chick Pea Salad.
Appetizer: 1 Cup Edamame in pod (boil frozen edamame – soy beans – in their shells for about 10 minutes and pop into your mouth like peanuts)
Main course:Chick Pea Salad with Cumin and Mint
Dessert: Fat Free or Low Fat Fruited yogurt, 1/4 ounce Dark Chocolate Chips mixed in
I recommend iced tea or herbal tea to drink
DINNER
Again, I wanted an enjoyable three course meal starting with an appetizer and ending with a dessert. Very elegant. My dairy/protein is hidden in the delicious dip. At least half the meal is veggies and fruits (the crudités in the appetizer, the spinach placed under the salmon, and the strawberries in the Granita dessert). This is a  very nutrient-dense, but low calorie meal, one high in omega-3-fatty acids as well as vitamins, minerals and anti-oxidants. Filled with flavor, texture and colors…
Appetizer: Crudites with Yogurt and Spinach Dip
Main Course: 1 serving Grilled Salmon in a Mustard Crust
Served atop  1 Cup Sauteed Fresh Spinach/Greens, in 1 tsp Extra-Virgin Olive Oil
4 ounces wine, optional (OR a whole grain roll)
Dessert: Strawberry Granita
I love to eat and expect my meals to be delicious. That is true for everyone. What many people don't realize is that healthy food can also be delicious. I love helping people discover this and seeing the joy in their faces when they realize they don't have to feel deprived to eat healthy!
Call Katherine: 202-833-0353 or Email Her
For more fabulous tips and simple, effective ways to lose weight,
buy her book, Diet Simple!