Chickpea Salad with Cumin and Mint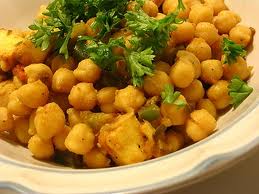 East Coast Grill and Raw Bar's Chickpea Salad with Cumin and Mint
From "Diet Simple: 195 Mental Tricks, Substitutions, Habits & Inspirations" (June 2011, LifeLine Press)
Serves 4
1 cup dried chickpeas or 1 15-ounce can chickpeas
1/2 teaspoon Salt (if using dried chickpeas)
1/3 Cup Olive Oil
1/4 Cup Fresh Lemon Juice (about 1 lemon)
1 Tbsp Minced Garlic
1 Red Bell Pepper, halved, seeded, and diced medium
1/2 Cup Roughly Chopped Scallions (white and green parts)
1/4 Cup Roughly Chopped Fresh Mint
2 Tbsp Cumin Seeds, toasted if you want, or 1 Tbsp Ground Cumin
1 Tbsp Minced Jalapeno or other fresh chile pepper of your choice (optional)
2 Bunches Watercress, trimmed, washed, and dried
If you are using dried chickpeas place them in a large pot, cover with water, and let soak overnight, or for at least 5 hours. Drain and rinse two or three times. Return the chickpeas to the pot, cover with water again, add salt, and bring to a boil over high heat. Immediately reduce the heat to medium and simmer for one hour to one hour and 15 minutes, or until the chickpeas are tender but not mushy.  Drain and rinse thoroughly with cold water.  If you are using canned chickpeas, simply drain and rinse them. Place the chickpeas in a medium bowl, add all the remaining ingredients except the watercress, and toss well. Cover and refrigerate until well chilled, at least 30 minutes. When chilled, place the watercress on a platter or individual serving plates, top with the chickpea salad, and serve.  370 calories per serving.
"Chickpea Salad with Cumin and Mint" is from: License to Grill, copyright by Chris Schlesinger and John Willoughby (William Morrow and Company, Inc. 1997)
Chickpeas and other legumes, are not only delicious and versatile foods, they are loaded with nutrients which improve your body's immune response, allowing you to resist diseases more effectively. They are high in protein (6 grams per 1/2 cup), 7 grams of fiber (the kind which lowers bad – LDL – cholesterol), high in iron, folate, vitamin E, only about 2 grams of healthy fat, and virtually zero sodium.
Call Katherine: 202-833-0353 or Email Her
For more fabulous tips and simple, effective ways to lose weight,
buy her book, Diet Simple!