Healthy Treats for your 'Sweets'? Eat it and Weep!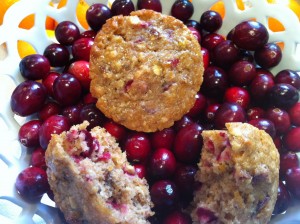 BUT DOES MY RECIPE TASTE GOOD?   For those of you out there who are skeptical that a 100% whole grain, 100% healthy fat muffin is incredibly delicious, good enough to get you and your sweetie excited – eat it and weep!
I hate to bore you with why you want to make your treats healthy for your sweetie. But… I'd like to make a few points so you'll stop using white flour and butter forever! (Did I say that?)
First, Do you care about blood flow (ahem)? Second, do you care about a beating, healthy, strong heart? Third, do you want your sweetie to live a long, vigorous life?
The U.S. Dietary Guidelines are coming out soon, and they will be sharing the news of the importance of eating whole grains and liquid oils… The scientists said the following about CARBOHYDRATES:
"Most American, because they are largely sedentary, should decrease high calorie carbohydrates, especially refined, high-calorie, sugar-dense foods and beverages, desserts, including grain-based dessert (read: muffins, among others) and grain products low in nutrients. Staples in the diet should be fiber rich carbohydrate foods such as whole grains, vegetables, fruits, cooked dry beans, and peas."
They said the following about FATS:
"To reduce the burden of cardiovascular disease (CVD) and type 2 diabetes (T2D), Americans should limit their saturated (solid) fat intake, and substitute them for mono- or poly-unsaturated fats (oils). They should avoid trans fats from industrial sources. They should eat two servings (4 oz cooked) of low-mercury seafood per week, which provide omega-3-fatty acids (EPA and DHA), but especially DHA during pregnancy and lactation."
Okay, now that you've read your lesson, here's my recipe:
Cranberry – Orange – Toasted Walnut Whole-Grain Muffin
12 Muffins
1 1/2 cups (6 ounces) King Arthur Traditional Whole Wheat Flour or King Arthur 100% White Whole Wheat Flour
3/4 cup (2 5/8 ounces) quick-cooking oats (I pulverized Old Fashioned Rolled Oats in the food processor)
1/4 cup (1 3/4 ounces) buttermilk powder or nonfat dry milk
2/3 cup (4 5/8 ounces) sugar
2 teaspoons baking powder
¼ to ½ teaspoon baking soda (I've been advised to add this by a baking expert)
1/2 teaspoon salt
1 cup fresh or frozen cranberries,* chopped (I used fresh)
1/2 cup (2 ounces) chopped pecans or walnuts (I toasted them)
1 tablespoon orange zest (finely grated orange peel)
2 large eggs
3/4 cup (6 ounces) milk (I used buttermilk)
1/3 cup (2 1/4 ounces) vegetable oil (I used Canola Oil)
Glaze
2 tablespoons (1 ounce) orange juice
3 tablespoons (1 1/4 ounces) sugar or 1 cup (4 ounces) confectioners' sugar, sifted
*For a sweeter muffin, substitute 1 cup sweetened dried cranberries.
Preheat the oven to 375°F. Grease the wells of a muffin tin, or line with papers, and grease the inside of the papers.
Muffins: In a medium-sized bowl, whisk together the dry ingredients, then stir in the cranberries and nuts. Whisk together the orange zest, eggs, milk, and oil or melted butter. Add the wet ingredients to the dry ingredients, stirring until blended; don't beat, or your muffins will be tough! Fill the muffin cups or liners about 3/4 full.
Bake for 18 to 20 minutes, until they're golden brown. Remove them from the oven, leave them in the pan for 5 minutes, then take out of the pan and transfer them to a rack to finish cooling.
Glaze: In a small saucepan or the microwave, stir together the glaze ingredients. Bring just to a boil, to dissolve the sugar. Dip the tops of the warm muffins into the glaze. Yield: 12 muffins.
This muffin recipe came from King Arthur Flour
Call Katherine: 202-833-0353 or Email Her
For more fabulous tips and simple, effective ways to lose weight,
buy her book, Diet Simple!